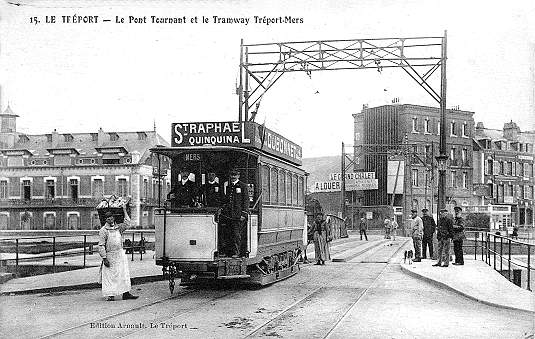 The Tramway from Le Tréport to Eu
Our postcard is from Editions Arnault, a local publisher in Le Tréport, and shows a tram crossing the swing bridge across the harbour on the route to Mers. The smaller view below is an extract from a card by Levy & Fils showing the terminus at the railway station at Eu. The other smaller views depict the funicular and are from Moussier and Levy & Fils. All the views date from around 1910.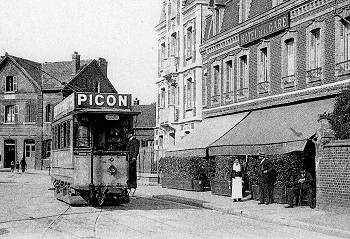 Le Tréport is a Normandy resort much favoured by Parisians. The metre gauge tramway was opened on 1st June 1902 with a 6 km line from the small English Channel port at Le Tréport to the inland town of Eu. The route started near the Tréport casino and close to the funicular, running along the quays of the River Bresle and then with roadside running to Eu, where it followed the main street before terminating at the railway station. There was also a 1 km branch in Le Tréport, across the swing bridge at Quai de la République to serve the railway station and the casino at Mers. The system had seven small single-deck motor cars of the Compagnie Général de Traction like that in our postcard plus two open sided trailers which were rarely used. During the 1930s, services were gradually replaced by buses with the last tram running in the autumn of 1934 and the tramway being officially abandoned in 1935.

Near the tramway in Le Tréport was a funicular to the "Terrasses", which opened on 29th June 1907, operating summer seasons only. It climbed 120 metres at a 62% gradient and at the top passed through twin tunnels in the cliff to serve the Hotel Trianon close by the top station. There were two wooden counterbalanced cars which weighed six tonnes and had four compartments, each car running on its own discrete track. It closed in 1939 with the outbreak of war, although in 1941 was used by the German army who installed a long range gun battery at the top. It did not reopen after the war. In the 1960s a cable car was tried but was not very successful and the line was abandoned until June 2006, when a new modern funicular was opened using just the right hand tunnel.

Go to Postcard Of The Month Index




Reload Home if you linked directly to this page



Postcard of the Month is created by John R. Prentice © Copyright 2010