Wuppertal, Kaiser's visit to the Schwebebahn
Is it a tram? Is it a train? No, it's the Schwebebahn in Wuppertal, Germany. However, it has more the character of a tramway than a railway so finds a place in our postcard feature. The litho-printed postcard was published by Wilhelm Fülle of Barmen as a souvenir of the visit by the Kaiser (German emperor Wilhelm II) and his wife, the Kaiserin, (Princess Augusta Victoria of Schleswig-Holstein) on 24th October 1900 to the newly constructed Schwebebahn, or "swinging railway". The card was posted to London on 15th November 1900 although the writer erroneously dated it 15th October on the front. However, he did annotate it to show the Kaiser and Kaiserin (1. and 2.) at the centre of the picture and described some of the features of this technical marvel of the age. They are shown ascending the stairs to Döppersberg Station (now Wuppertal Hauptbahnhof) for their official visit and journey to Vohwinkel in Sonnborn, the western terminus of the line. Waiting outside the station on our card is car no. 5 that was to convey the Kaiser and his party to Vohwinkel. This and car no. 22 still survive, forming the historic 'Kaiserwagen' set that sometimes runs on special occasions.
The first of the smaller views below shows prototype cars I and II over the river in Elberfeld, from a card published by "Deutsche Automaten-Gessellschaft" of Cologne and posted in 1902, but probably produced before the public service had started. The second smaller view is one of many similarly 'contrived' cards showing the Sonnborner Brücke (Sonnborn Bridge) with, in this case, four types of transport above each other, two Schwebebahn cars, a steam train, an airship and, on the left, a tram of the Elberfeld town tramway. This is another card published by Wilhelm Fülle of Barmen (serial no. 26090/92) and was posted in 1913. Finally we have a real photo card showing two coupled cars of the 1950 series built by Westwaggon of Cologne (numbered 59-78). The view was taken in the Hammerstein area, two stops from the terminus at Vohwinkel. It dates from 1952 and was published by Max Biegel of Wuppertal-Elberfeld (serial no. Wpp.107).
The main industrial towns of the River Wupper valley (='Wupper-Tal'), Sonnborn, Barmen and Elberfeld, were largely built around the requirements of, and prosperity from, textiles and nearby coal-mining. For example, Friedrich Bayer founded his well-known chemical company in Barmen in 1863. The railways reached the area in 1841 and, from 1874, there was a horse tramway along the valley between Barmen and Elberfeld which was taken over in 1876 by the Belgian company Société General des Tramways. It was only in 1929 that the Wupper valley towns such as Elberfeld, Barmen and Sonnborn, were amalgamated and collectively named Wuppertal.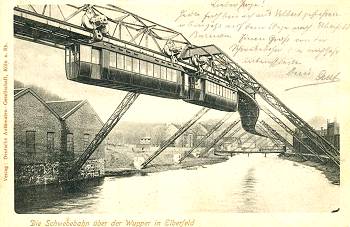 The Elberfeld electric tramway opened in 1896 but, as the towns expanded towards the end of the 19th century, there was pressure for more efficient local transport. To make the most of the limited and valuable space in the valley, an elevated electric railway was proposed in 1889. After much competition, the inventive industrialist Eugen Langen from Cologne succeeded in persuading the towns to choose his monorail system that would be suspended largely above the River Wupper, thereby saving road space. Contracts were signed in 1894 for the section between Elberfeld and Barmen, and for the extension to Vohwinkel in 1895. Construction started in 1898 with the first test run in December of that year. Two prototype test cars, numbered I and II and in a dark green livery, were delivered in September 1898 and it is these two characteristic cars that appear most often on the earliest postcards of the Schwebebahn from 1898 to 1900. They never entered public service but survived until 1920 when they were scrapped. Although visited by the Kaiser in 1900, official service did not commence until March 1901 and the full length of 13km, from Vohwinkel to Rittershausen/Oberbarmen at the eastern end of the line, did not open until June 1903.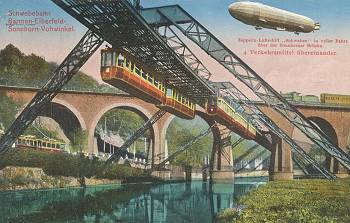 The main construction comprised over 470 iron supports straddling the river and some streets in outer sections. These have been steadily replaced over the years by modern steel structures. Cars travel 10-15m above the river and 6-8m above the road on street sections.
The first production cars, nos. 1-26 in a red and white livery with 1-16 being leading cars and 17-26 being trailing cars, were built in 1900 by Van de Zypen & Charlier of Cologne with electrical equipment by the Elektrizitäts-Aktiengesellschaft. Each car was 11.9m long, 2.1m wide, 2.6m high and had 25 seats with standing room for a further 40. Power was provided by a 500v DC, 25 kW motor in each of two, two-wheeled bogies such that a speed of 40km/h could easily be reached. A collector shoe made contact with a power rail next to the running rail and the driver stood and used a tramway-type controller, switchable between series and parallel running. Interestingly, prior to service in Wuppertal, new production car no.1 ran on a specially built section of line at the 1900 World Exhibition in Paris.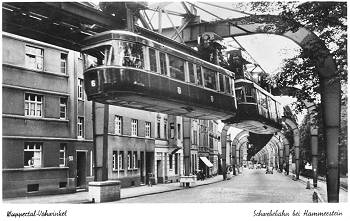 Similar rolling-stock was added in 1903 (24 cars) and 1912 (6 cars). A few other new or rebuilt cars were added in 1930 (2) and 1941 (2) but much of the fleet was replaced with twenty, more modern cars built by Westwaggon in 1950. These in turn were replaced by a fleet of twenty-eight MAN (Nuremberg) double-articulated cars in 1972-74. Each of these has a capacity for over 200 passengers and is equipped with four 50kW motors. Today, the system operates at 600v DC and top speeds of 60km/h are possible although the average service speed is around 30-35km/h. Over the years, there have been several plans for extensions to the line but none have been built.
The system had run for 99 years without serious accident until 1999 when one of the MAN cars (No. 4) hit a metal clamp, that had not been removed after overnight maintenance, and fell into the River Wupper - five passengers died. A less tragic but more bizarre incident happened in July 1950 when the baby circus elephant 'Tuffi' got over-excited, broke out of a car and fell into the river during a publicity trip - it survived with just a small scratch!
After some 110 years, the Wuppertal Schwebebahn continues to play an important role in local transport and remains unique in so many ways. It is also a lasting memorial to its inventor Eugene Langen who never lived to see his most famous project get off the ground - he died in 1895, prior to the start of construction in 1898, at the early age of 52.

Go to Postcard Of The Month Index




Reload Home if you linked directly to this page



Postcard of the Month is created by John R. Prentice © Copyright 2010