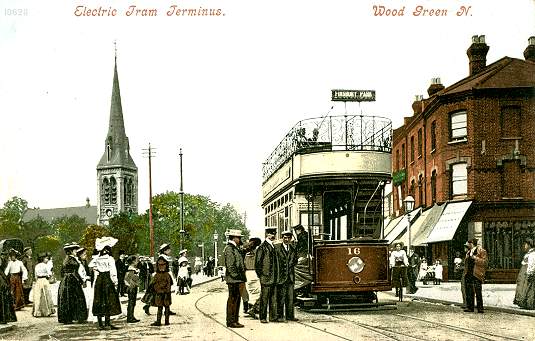 Metropolitan Electric Tramways Car 16, Wood Green
This postcard was published by Blum and Degen and was probably printed in Saxony. It shows Metropolitan Electric Tramways car 16 and is titled "Electric Tram Terminus, Wood Green". Our example was posted in 1905, but the attention being paid to the tram suggests that the view was taken in July 1904 when the tramway was new. The small view below is a postcard by local publisher G. Smith of 15 Stroud Green Road, Finsbury Park. It is titled "New Electric Cars at Finsbury Park" and shows car 14 about to leave for Wood Green from the other end of this North London route. Our copy was posted in August 1904 and almost certainly dates from the route opening.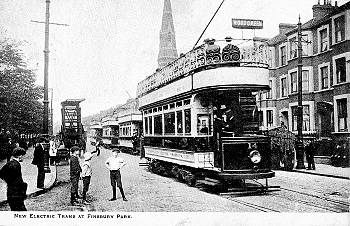 The Metropolitan Electric Tramways was described with our Postcard at Sudbury. The route in our postcard was the first electrified line of the Metropolitan Electric Tramways (MET), being previously a horse tramway of the North Metropolitan Tramways Company. The system of two routes was inspected on 19th July 1903 by Major J. W. Pringle of the Board of Trade. The line ran from the "Three Jolly Butchers" at Wood Green, through Harringay along Green Lanes to Manor House and then along Seven Sisters Road to Finsbury Park, Blackstock Road. The second line ran from Seven Sisters Corner Tottenham to join the first at Manor House. They both entered public service on Friday 22nd July 1904. The depot was at Wood Green.
Cars 14 and 16 on our cards were of Type B, a batch of 35 cars built in 1904 by the Brush Electrical Engineering Company Ltd., of Loughborough to operate these first two routes. They seated 30 passengers inside on longitudinal seats and 38 on top. They were on Brush type BB maximum traction bogies. Electrical equipment was supplied by the British Thomson-Houston Company Ltd., of Rugby, each car having two General Electric GE58 28 hp motors and BTH B18 controllers with hand and rheostatic braking.
In 1933 the MET was taken over by London Transport. The original tracks of our postcards, which by then were just part of other routes, were replaced by trolleybuses in 1938, which in turn were replaced by motor buses in 1961.

Go to Postcard Of The Month Index




Reload Home if you linked directly to this page



Postcard of the Month is created by John R. Prentice © Copyright 2009