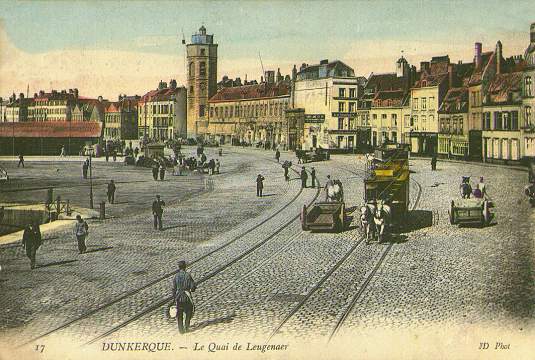 Dunkerque Horse Tram, Quai de Leughenaer
Dunkerque (Dunkirk - English spelling) is an important English Channel ferry port and is the most northern town in France. Our postcard shows the Quai de Leughenaer with its horse tramway. The tower in the background is the Tour Leughenaer, built in 1548 as part of the town's defences and converted to a lighthouse in 1825. It is still there today, although the light has been out of use since 1963. The postcard is no. 17 in a Dunkerque series published by Neurdein et Cie of Paris ("N.D.Phot") around 1905, but the photograph is somewhat earlier, probably from about 1895. Our example was posted on 19th September 1907 between two addresses in Hythe, Kent, with a message written in a childlike symbolic code of dots and squares.
The concession to build a standard gauge horse tramway was granted in 1875 to a Monsieur Spilliaerdt. The first route, from the main railway station to Kursaal, opened on 1st June 1880. In 1898 a second route was opened from Dunkerque to Rosendael station, linked to the first by a line from Rosendael (Victor Hugo) to Kursaal via the centre of Malo-les-Bains.
The horse trams were to a double-deck English design with back-to-back "knifeboard" seats on the upper deck. They were pulled by two horses. The staircases turned to the left and were on the right side of the cars with the entrances on the left, as would be the case for English left hand running. This meant that at times passengers would have boarded and alighted via the driver's end. On the wide quays in the centre of Dunkerque passengers could have probably used either end. The view in our postcard might suggest that left hand running was used, but in fact the track on the left was dock railway, and the tramway at this point was single track with passing loops.
Meanwhile in 1896 a separate company (Société des Tramways de Saint-Pol-sur-Mer à Dunkerque) had opened a 600mm gauge line from Dunkerque in the opposite direction to St.Pol using small single-deck one horse cars. The original standard gauge system was electrified in 1899 using accumulator cars (see postcard), also to an English design, with the horse cars then sometimes being used as trailers. The accumulator cars were not a success and were replaced by overhead electric cars in 1903. After some extensions and in 1912 the absorption and conversion of the St.Pol line, the 16km "Tramways de Dunkerque" continued to operate until the bombardments in 1940, after which only the route to Malo-les-Bains continued, this being replaced by motor buses on 3rd November 1952.

Go to Postcard Of The Month Index




Reload Home if you linked directly to this page



Postcard of the Month is created by John R. Prentice © Copyright 2009