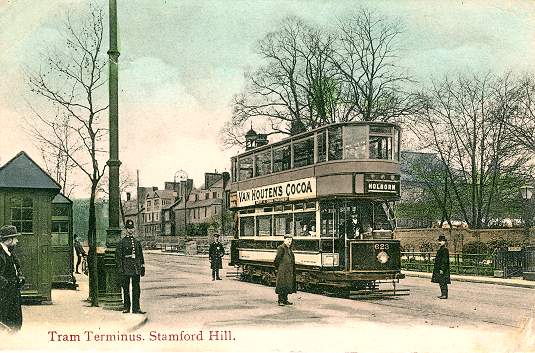 London County Council Car 623,
Stamford Hill Tram Terminus
Our main postcard shows the tram terminus at Stamford Hill in North London in 1907, with London County Council E class tram 623 bound for Holborn. The card was published locally by Gordon Smith of 15 Stroud Green Road. Our copy was posted on 7th September 1908. The smaller view below is of the "Electric Tram Terminus, Stamford Hill", a small distance from the main view, and shows Metropolitan Electric Tramways B/1 type tram 68 on route to Finsbury Park via Bruce Grove (identified by the disc on front with a cross and an "S"). This card is of similar date and is number 21526 in the "Kromo" series, published in London by Blum and Degen (B&D) and printed in Saxony.
The first tramways at Stamford Hill were horse drawn. Those to the south were operated by the North Metropolitan Tramways Company from 3rd April 1875. Those to the north were operated by the North London Tramways Company from 7th June 1881, who also ran a steam tram service to Ponders End from 1st April 1885. In 1892 North Metropolitan took over the North London company and replaced the steam trams by more horse cars. North Metropolitan itself was taken over as a result of the rules of the 1870 Tramways Act, with control of the routes to the south of Stamford Hill going to the London County Council (LCC) and those to the north to the Middlesex County Council to be operated on their behalf by the Metropolitan Electric Tramways (MET).
The MET electric service on the route from the tram terminus north to Seven Sisters Corner began on 12th April 1905 using overhead wire current collection. The LCC services south began on 6th February 1907 using conduit current collection, the section in Kingsland Road being on an experimental side slot system.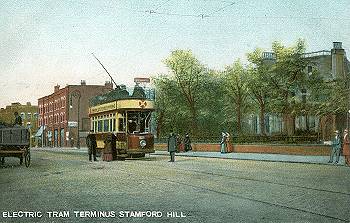 Although the two tramways met at Stamford Hill, at the date of these postcards in 1907 there was no through route. The MET terminus (shown in the small view left) was a short distance from that of the LCC and passengers had to change cars. However, there was a short section of shared track with both conduit and overhead which enabled the LCC cars access to their depot at the end of Egerton Road. After the Great War both systems wanted more through running and an agreement was reached. On 2nd June 1920 a conduit change pit was brought into use and the LCC cars then started to work over the MET tracks. MET cars were unable to use the side conduit in Kingsland Road and had to wait until 1921 before this was converted to the normal system.

The E class LCC car 623 in our view was one of a batch of 150 built by Hurst Nelson & Co. Ltd. of Motherwell, this one being delivered in 1906. They had 76 seats, 30 on the lower deck on longitudinal benches and 46 on the upper deck, mostly on two by two seats. They were on Mountain & Gibson maximum traction bogies, each car having two 35hp British Westinghouse type 200 motors and Westinghouse T2A controllers.
The B/1 type MET car 68 was built in 1904 by the Brush Electrical Engineering Co. Ltd. of Loughborough. They had part longitudinal seating for 24 on the lower deck and 38 seats on top. There were on Brush's own BB type maximum traction bogies with two 28hp General Electric GE58 motors and British Thomson-Houston B18 controllers.
Both LCC and MET became part of London Transport on 1st July 1933 and it was not long before tramway replacements were considered. On 5th February 1939 all the tram routes operating from Stamford Hill depot (43, 47, 49, 49EX, 71, 75 and 83) were replaced by trolleybuses and the depot itself then became a trolleybus garage. Trolleybuses were in turn replaced by Routemaster motor buses on 19th July 1961 bringing to an end electric traction at Stamford Hill terminus.

Go to Postcard Of The Month Index




Reload Home if you linked directly to this page



Postcard of the Month is created by John R. Prentice © Copyright 2009