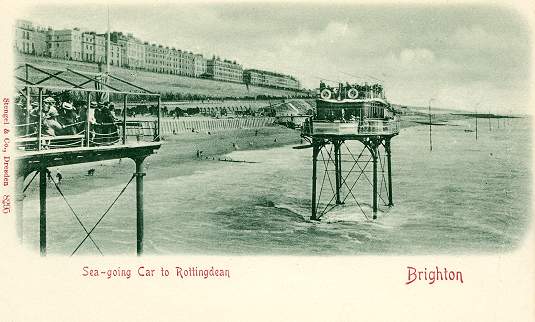 The Brighton & Rottingdean Seashore Electric Tramroad
Our main postcard comes from Stengel & Co. of Dresden, Germany and was produced in 1899. It has an undivided back. The card is titled "Brighton, Sea-going car to Rottingdean" and shows this wonderful tramway, often nicknamed the "Daddy Longlegs". Below, the smaller view of the car is from "retro" postcard No. 139 by A.W.Wordell of Brighton, published in the 1920s and sold long after the line had closed. The final small view, showing the Volk's Electric Railway, is from a card published around 1905 by the Pictorial Centre, 7 Grand Junction Road, Brighton, and was posted on 9th October 1909. It shows the point at which this line was extended to replace the "Daddy Longlegs".
The Brighton & Rottingdean Seashore Electric Tramroad was an invention of Magnus Volk, who had already opened his Volk's Electric Railway (VER) in 1883. Extending the VER to Rottingdean would have involved a steep gradient to the cliff tops or expensive construction at the cliff base, so Volk decided to build his line in the sea. Permission was granted by Act of Parliament on 27th July 1893, work commenced in June 1894 and the line opened for service on 30th November 1896 after an official opening ceremony on 28th. Sadly a storm on the night of 4th/5th December badly damaged the line, with the car breaking away from Rottingdean pier where it been lashed and then overturning. With extensive repairs being needed, the line did not reopen until 20th July 1897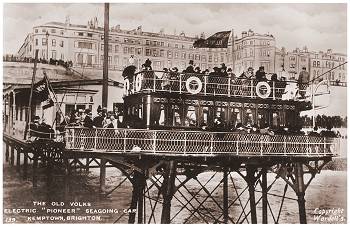 The "tramcar" was called Pioneer. It was built by the Gloucester Railway and Wagon Co. Ltd. It carried 150 passengers and weighed 50 tons. The Board of Trade inspectors had required that it carry lifebuoys, a Berthon Boat (a collapsible lifeboat) and be in the charge of a qualified ship's captain. Mounted on an elliptical main deck was a luxurious saloon, 25ft 3in by 12ft 6in, complete with potted aspidistras and palms. On top of this was an observation deck. Both saloon and "top-deck" had knifeboard seating. The main deck was 46ft by 20ft mounted on four braced 15ft tubular steel legs, two containing the drive shafts and two the brake rods. Fixed to the deck were two General Electric GE800 25-horsepower motors. At the foot of each leg, encased in steel plates, was a 4-wheel truck with 33in diameter wheels, the whole vehicle having a wheelbase of 23ft 6in. The drive shafts were fitted with bevel gears which engaged with four of the eight axles.
The line was just under 3 miles long and was laid on twin tracks each to 2ft 8½in gauge (the same as the VER) giving an overall track gauge of 18ft between the outer rails. Flat bottom 52lb rail was fixed to concrete block sleepers cut into the chalk bedrock. At high tide the tracks were covered by 15ft of water. There were loading piers at Banjo Groyne (Paston Place, near the VER station) and at Rottingdean with an intermediate stopping pier at Ovingdean Gap. The route was level except for a slight 1 in 100 gradient at the Rottingdean end created to aid starting and stopping. The fare was 6d each way, the journey taking about 35 minutes. Current was supplied by overhead wire via two trolley poles, with Dawson's patent standards on the landward side of the tracks, just visible in our card. Electricity was generated at 500 volts DC by a steam driven dynamo under Rottingdean pier.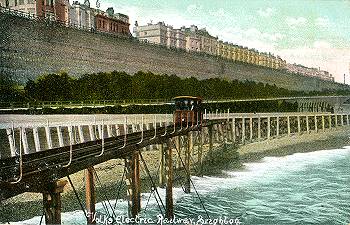 Pioneer was always underpowered and there were no funds available to upgrade the motors or to provide a second car as originally envisaged. Although it could travel at about 8 mph at low tide, at high tide it almost stopped and silting of the track caused additional problems, so by 1900 service was reduced to just novelty rides out and back from Banjo Groyne. During that year Brighton Council served notice that it was building additional groynes and that the tracks would be removed between Paston Place and Black Rock. This occurred in late January 1901 and so this most interesting line then closed as there was no landing stage at Black Rock, and it was clear that the system was not viable. Volk extended his VER to Black Rock (see small view) as a partial replacement and although he received the necessary Act of Parliament on 23rd June 1902, was unable to raise enough capital to continue all the way to Rottingdean. Pioneer remained lashed to Ovingdean pier until 1910 when, together with the remaining track, it was scrapped. (See also Historic Photos).


Go to Postcard Of The Month Index




Reload Home if you linked directly to this page



Postcard of the Month is created by John R. Prentice © Copyright 2008