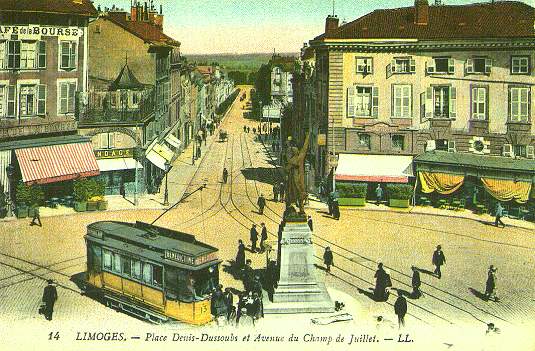 Limoges Car 13, Place Denis-Dussoubs & Avenue du Champ de Juillet
A distinctive postcard by that most famous of French card producers, Lévy Fils et Cie, of 44 Rue Letellier, Paris. Lévy cards can be identified by the letters LL at the end of the title. This one is their card 14 of Limoges and shows tramcar 13 of the Cie des Tramways Electriques de Limoges (CEF) at Place Denis-Dussoubs looking towards Avenue du Champ de Juillet. The card dates from about 1910.
In 1897 a concession was given to MM. Grammont & Faye to construct the tramway. The CEF was set up and the metre gauge tramway was built, initially with five routes serving Pont Neuf, Clos Moreau, the cemetery at Louyat, Gare des Bénédictions, Faubourg Monjovis and Ecole Normale, with the first opening on 5th June 1987. Most of the tramway was single track with passing loops. The depot was at Clos Moreau. Routes were later extended and a sixth was opened in 1903 from Route d'Ambazac to Faubourg Angouleme, bringing the total system length to around 18 km.
The car on our postcard was one of 25 cars built by Grammont. They were 8 metres long and each had two 25 horsepower motors. There were also 6 open trailers. By 1912 four additional Grammont cars had been added and there were 22 open trailers. There were also six Brill cars which were acquired in 1908 for CEF to operate a line from Clos Moreau to Aixe-sur-Vienne built by the Département, but which in 1912 had passed to Chemins de Fer Départementaux de Haut-Vienne, whose 345 km 10kv network was running by then in the Département.
Over the next few years the line and cars were modernized, but in 1938 it was decided to replace the system by trolleybuses. The war slowed down the conversion, but it began in 1943 with the final route, route 1, closing on 2nd March 1951. Trolleybuses are still operated in Limoges on a 24.4 km network of five routes, using around 40 vehicles.

Go to Postcard Of The Month Index




Reload Home if you linked directly to this page



Postcard of the Month is created by John R. Prentice © Copyright 2008