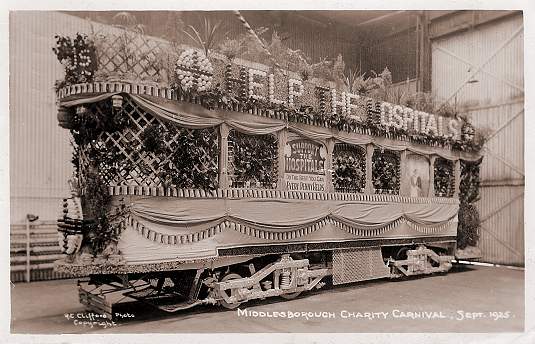 Middlesbrough Corporation Tramways, Illuminated Car
This real photographic postcard dates from September 1925 and was published by R.C.Clifford. It shows a Middlesbrough Corporation single deck car, either 110 or 111, which was decorated for the Middlesbrough charity carnival in support of the local hospitals. A faded note in ink on the back tells us that the car had 750 lamps. We believe our copy was sent through the post in October 1925. The car is in the depot, which was in Parliament Road, off Newport Road.
The Middlesbrough, Stockton & Thornaby Electric Tramways Company was formed in 1898 by Imperial Tramways taking over the Middlesbrough and Stockton standard gauge horse tramway (opened 1874) and the Stockton & Darlington 4ft gauge steam tramway (opened 1881), converting to the odd 3ft 7in gauge, and electrifying the system. The first car ran on 21st May 1898. The main route ran from Norton via Stockton and Thornaby, mostly following the steam tram route, then on Newport Road in Middlesbrough and the former horse tram route to terminate at North Ormesby. There was a branch from the town centre to Linthorpe. A small extension to this route was made in 1901 from the town centre along Cleveland Street to a terminus near to the Transporter Bridge (built 1911). The routes totalled 9.61 miles. On 3rd April 1921 Middlesbrough Corporation took over the five and a half miles of lines within its boundaries, with Stockton and Thornaby Corporations taking over their sections and operating them by a joint board.
The car in our postcard was one of two company cars which were cut down from open-top double-decker cars 37 and 50 in 1911. They were renumbered 110 and 111 by the corporation in 1921. They were originally built in 1898 by Geo. F. Milnes and Company of Birkenhead and Hadley. They seated 34 (originally 30 on top 30 inside). They had Peckham Cantilever reversed maximum traction bogies with two General Electric 27 horsepower G800B motors and General Electric K2B controllers. In 1921 the former company rolling stock had been divided between the two new operators, with Middlesbrough Corporation receiving 19 bogie open top double-deckers and 10 single-deckers to which they soon added 9 new covered top bogie cars, plus the two cut down cars. There was also a permanent way works car. The company livery was vermilion and white, that of the corporation being dark blue and cream.
Through running with Stockton and Thornaby was normal, so when they closed their system on 31st December 1931 (last car was Middlesbrough 113), Middlesbrough curtailed their main route and just retained the branch between Linthorpe and the Transporter Bridge, which finally closed on 9th June 1934, the last car being 103. All the services in the area were replaced by motorbuses. From 1919 Tees-side Railless Electric Traction (jointly owned by Middlesbrough and Eston) operated a trolleybus service from the North Ormesby tram terminus on to Grangetown and Eston, which continued until April 1971. In 1968 the transport services of Stockton, Thornaby and Middlesbrough (together with the trolleybuses), were brought under common control again forming Teesside Municipal Transport, adopting the name Cleveland Transit in 1974. The Transporter Bridge is still in service.

Go to Postcard Of The Month Index




Reload Home if you linked directly to this page



Postcard of the Month is created by John R. Prentice © Copyright 2008