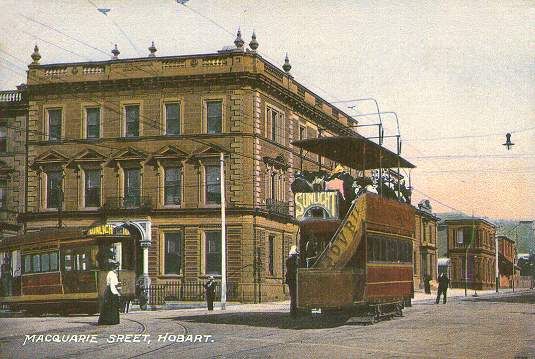 Hobart Electric Tramways, Macquarie Street
Hobart is the capital of Tasmania, the island state of Australia. Although quite a small city it was an early tramway venture. This postcard was published by J.Walch & Sons of Wellington Street, Hobart in 1911, is their card number 119408, and was probably printed in Saxony. It shows two trams of the Hobart Electric Tramways in Macquarie Street, a location quite close to their depot. The small view of car 7 (below) is from postcard number 39 in the M. & L. Series (possibly British company Millar and Lang), printed in Saxony, and dated 1910. Our copy was posted from Hobart to Scotland on 23rd July 1910. The final view of car 25 is from a postcard on the Tasman series by J.W.& S., Ltd., Hobart, printed in England (probably the J. Walch & Sons" of our main card) and dating from around 1915. Both small views are in Elizabeth Street.
In 1884 the Hobart Tramway Company obtained an Act of Parliament to open a horse or steam tramway, but was unable to raise the necessary capital. In 1890 two of the directors of that company went to London and had discussions with British financiers and representatives of Siemens Brothers. The outcome was that in 1892 a new company, the Hobart Electric Tramways Company Ltd., was registered in London and took over the original company and its rights. Siemens, who no doubt wanted an entry into the potential Australian market, agreed to finance and build the tramway, and to operate it for the first six months. The tramway was built to 3ft 6in gauge. Siemens sent A.C.Parker over from England to oversee their interests and he stayed and became the tramway's General Manager. The first car ran on 21st September 1893.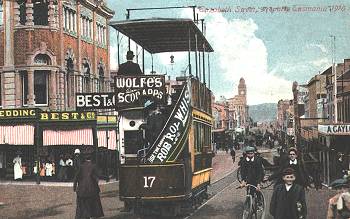 The double-deck tram on our main postcard and car 17 in the small view (left) were from the batch of twenty cars (numbered 1-20) that were built in England by the Lancaster Railway Carriage and Wagon Company for the opening of the tramway in 1893. They had 4-wheel trucks of an unusual design which were probably constructed by the same supplier. They had two 12.5 hp Siemens motors in series, controlled via resistances by Siemens switchgear, with current collected by two rectangular bows. The cars were about 30ft long and weighed about 10.5 tons. They carried 24 passengers on longitudinal seats inside and the same number on cross bench reversible seats upstairs. The bodies were built of teak and ash, with mahogany window frames. Although the first car was probably delivered assembled apart from the roof, the rest were supplied as a "kit", i.e. completely knocked down, as was the normal practice at the time for exported trams. The single-deck car on the left of our main view is number 18, also one of this first series of trams but which had been cut down to single-deck and extensively modified in 1902. After this date additional single deck cars, such as 25 in the small view (below), were added to the fleet. The original livery was varnished wood, later becoming maroon with yellow dashes and then after 1904 a variety of green and cream or off-white combinations.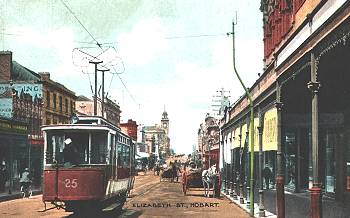 On 3rd July 1913 the tramway came under municipal control and was renamed Hobart Municipal Tramways, retaining Mr Parker as general manager. The tramway continued to expand, with additional cars, both double- and single-deck being added to the fleet. At its peak, around 70 trams were in operation. There were six routes running from the GPO in Macquarie Street to serve Sandy Bay, Proctors Road, Cascades, Lenah Valley, Springfield and Glenorchy, plus a separate route connecting West Hobart with North Hobart. Post WW2, a number of double-deck cars overturned, mostly due to worn out track, causing the tramway to convert the remaining double-deck cars to single-deck, this being completed by May 1949. From 1945 routes began to be closed. The last day of operations (through the northern suburbs) was on Friday 21st October 1960. A ceremonial last run was undertaken on Monday 24th October by a single tram, then the system was closed. A few Hobart cars have been preserved.

Go to Postcard Of The Month Index




Reload Home if you linked directly to this page



Postcard of the Month is created by John R. Prentice © Copyright 2008