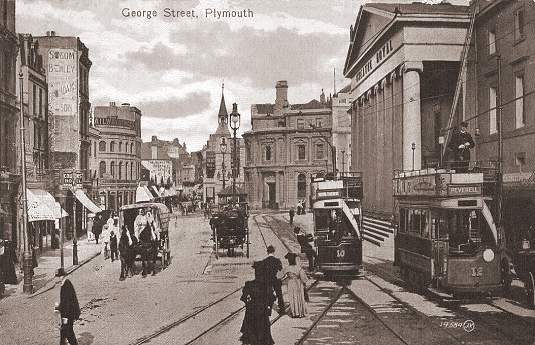 Plymouth Corporation Tramways Cars 10 & 12, George Street
Taken in 1908, this view is of George Street in Plymouth, Devon. The card is number 14584 in a series published by J.Valentine of Dundee. The two tramcars are numbers 10 and 12 of Plymouth Corporation Tramways. The building on the right is the Theatre Royal and the clock tower in the mid distance is Derry's Clock. Car 12 is on a stub terminal track whereas 10 is on the line that came from West Hoe and served North Street Station, although it is being "shunted" at the time of this photograph, having "Royal Theatre" on its destination blind. At this date four routes starting at Theatre Royal went to Compton, Beaumont Road, Princes Rock and Peverell, where car 12 is bound according to its blind and as indicated by the white disc carried on its dash. The smaller view is a coloured version of the same card, this example being posted from Plymouth to an address in France in January 1909.
In 1884 the Plymouth, Devonport & District Tramways Co. Ltd. opened a small 3ft 6in gauge steam tramway in the Plymouth area. The line was not successful and the company, after going into liquidation, was taken over in 1885 by a new organization, the Plymouth Tramways Co. Ltd. After a short while and after complaints about noise and smoke, the steam trams were withdrawn and horse trams replaced them. Again success was not forthcoming and on 28th September 1892 the Corporation bought the company. Initially, horse tram routes were extended but the Corporation decided to electrify, with the first electric car running on 22nd September 1899.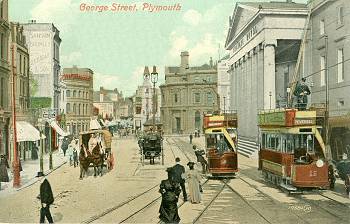 Cars 10 and 12 in our view were from a batch of fourteen double-deck cars (numbered 7-20) built in 1901 by the Brush Electrical Engineering Co. Ltd. of Loughborough. They seated 22 inside and 24 on top. They had Peckham Cantilever 3ft 6in gauge 4-wheel trucks with two Westinghouse type-46 25 hp motors and used Westinghouse controllers. At the time of our postcard the cars were in their original livery of red and yellow (used until 1922), later to become yellow and cream, then varnished teak and finally maroon and ivory.

On 20th October 1915 the Corporation took over the nearby Devonport and District Tramways, after Plymouth had itself been enlarged to include Devonport. On 1st July 1922 the Corporation took over the third tramway in its area, the Plymouth, Stonehouse & Devonport Tramways. After amalgamation and extensions, the Plymouth Corporation Tramways reached a maximum of 17.57 miles and in its lifetime owned 6 single-deck and 171 double-deck cars, the last 21 coming second-hand in the early 1930s from Exeter and Torquay. By that time bus competition was taking its toll and route closures began, but the onset of the Second World War delayed final closure until 29th September 1945, the last car being number 158. During the war George Street itself was completely destroyed by the severe bombing that Plymouth received, with replacement roads in that area now having a different layout.

Go to Postcard Of The Month Index




Reload Home if you linked directly to this page



Postcard of the Month is created by John R. Prentice © Copyright 2008