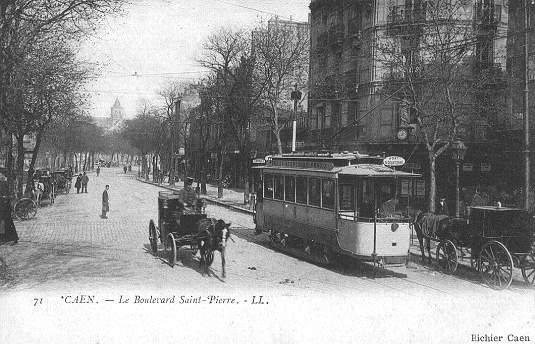 Caen, Le Boulevard Saint-Pierre
This postcard is from the famous French postcard publishers Lévy Fils et Cie, of 44 Rue Letellier, Paris, and is view number 71 in their series covering Caen in Normandy. It is an early card, probably dating from the opening of the tramway in 1901, and has an undivided back. The tram is in the Boulevard Saint-Pierre and is going towards Pont de Courtonne on the route from Venoix. The smaller view is a "night time" version of the same card, produced slightly later.
The tramway began life as a concession granted on 23rd February 1900 to the Compagnie Générale de Traction. Public service commenced on 21st December 1901. The concession was passed to the Compagnie des Tramways Èlectrique de Caen on 24th September 1902. The system was just 9 km in length and consisted of three routes: Gare Ouest - Gare St. Martin via Rue de Vaucelles, Rue St. John, Rue St. Pierre and Rue St. Sauveur; Octroi de Falaise - La Maladrerie via the first line as far as Place Malherbe, then Rue Guillaume-le-Conquérant and Rue Bayeux; and Pont de Courtonne (Gare St. Pierre) - Venoix via Boulevard St. Pierre, Place Gambetta, Boulevard Bertrand, Rue Guillaume-le-Conquérant and Rue Caponière. All three lines met at Place St. Pierre, near the location of our postcard. After the Great War a fourth line was added to Mondeville to serve the factory of the Société Métallurgique de Normandie. The depot was in Rue Fresnel, near Gare St. Pierre.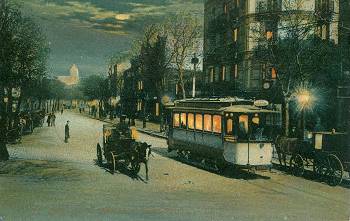 The rolling stock consisted of 17 single-deck two-axle cars, like the tram on our postcard, having open platforms with angled side entrances. Initially they were mounted on quite simple trucks from Compagnie Générale de Construction, these later being replaced by Brill 21E trucks with some cars receiving vestibules. In addition there were 8 open and 2 closed trailer cars. The single track with passing loops was to metre gauge with a minimum radius of 15 metres on curves, and current collection was from overhead wire using trolley poles.

At the period of the tramway, Caen had a population some 51,000. The system carried 2,679,000 passengers in 1912, falling to 2,097,000 in 1927. By 1936 traffic congestion in the narrow street caused the decision to be taken to withdraw the trams and the system closed during 1937. In 2002, electric traction returned to the streets of Caen in the shape of a guided trolleybus system.

Go to Postcard Of The Month Index




Reload Home if you linked directly to this page



Postcard of the Month is created by John R. Prentice © Copyright 2008