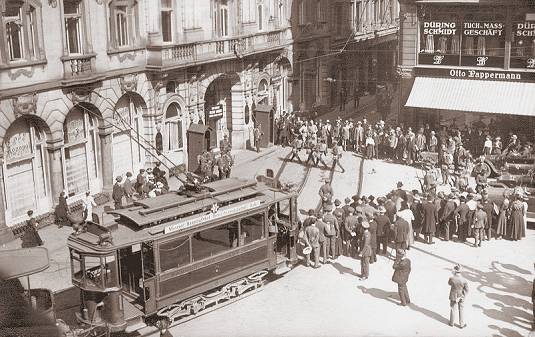 Cologne Car 491, Wallraf-Platz
Our main postcard by an unknown publisher is of Cologne car 491 outside the British Military Governor's HQ at Wallraf-Platz (close to the Dom or cathedral). It is on route 3: Museum - Hauptbahnhof - Deutz (Staatsbahnhof) - Kalk. A large crowd is watching what seems to be the changing of the guard. The smaller view (below) is of a similar type of card from the same date. It shows the nearby Dom Platz with trams on routes 15 (foreground) and 2 (behind). The tram stop to the right lists routes 1,2,9,10 and 15. At top left is the entrance to the "Excelsior Hotel Ernst". This card was published by M.Joski, of Köln, Hohestrasse 43. There are numerous 'Tommies' in the pictures. Both cards date from around 1919 at the time of the British occupation, just after the First World War (see also our postcard of British Soldiers in Cologne).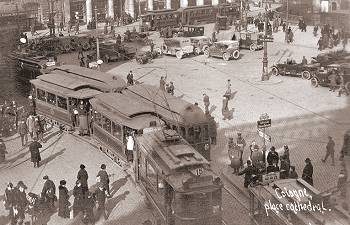 Car 491 is of the class T.1, as described with the postcard showing British Soldiers. This particular example was one of those built in 1901 by the Cologne tramway's workshops. After many rebuilds and much renumbering it survived until 1959 as a snow plough. The trailer cars in the foreground of the smaller view are of class B.3. There were 135 of these built between 1905 and 1908 by van der Zypen, Herbrand, Uerdingen and again a few by the Cologne tramway itself.
The Cologne tramway opened initially as a standard gauge horse system on 28th April 1877. The electric trams commenced on 15th October 1901, the last horse car running on 22nd May 1907. Electric trams still run today on an extensive system. In the central area and extending into the suburbs, the north-south routes are in subways, with surface lines mainly on reservation, and operated by high-platform Stadtbahn cars. East-west lines through the city are traditional tramways and are operated by a new fleet of low-floor cars.

Go to Postcard Of The Month Index




Reload Home if you linked directly to this page



Postcard of the Month is created by John R. Prentice © Copyright 2007