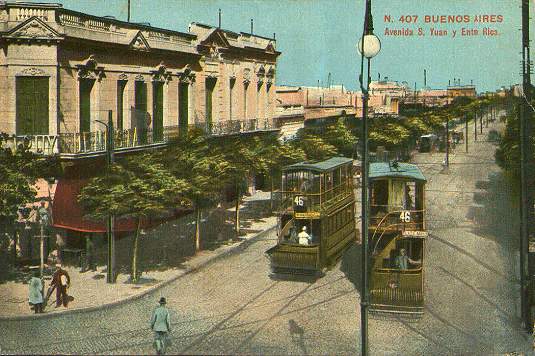 Buenos Aires, Tranvias de La Capital
Our postcard shows two trams of the company Tranvias de La Capital in Avenida S. Yuan y Entre Rios, Buenos Aires, the capital city of Argentina. The card was published by Z. Fumagalli of Buenos Aires and our copy was posted from Victoria in the Entre Rios area of Argentina to Tangier in Morocco in 1906, with the view dating from about then. The two trams are on route 46 between Plaza Mayo and P. Patricos.
In common with many other large capital cities, Buenos Aires initially had its tramways built and operated by a large number of different companies, in this case around twenty of them. The largest was the British owned Anglo-Argentine Tramways Company, which together with others started the first horse tramways in 1870. The third largest was the Buenos Aires & Belgrano Tramways Company which in 1897 was the first to run electric trams and which was taken over by Anglo-Argentine in 1908. The trams on our postcard were operated by La Capital, another British company, which had used horse cars since the mid 1880s, and which ran its first electric car in December 1897, just after Buenos Aires & Belgrano.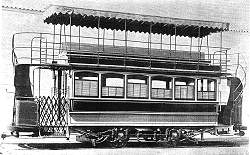 In March 1897 La Capital ordered a batch of 41 standard gauge four-wheel covered-top cars from the J.G.Brill Company of Philadelphia USA, the largest single order for double-deckers ever supplied by Brill, followed by 12 in 1899 and 15 in 1900, all to the same design. The two cars in our view are of this type, being Brill's standard product but modified for left hand running (until 1945, traffic in Argentina drove on the left). They were sent from the US "completely knocked down", that is dismantled into parts to be assembled at their destination, a method commonly used by Brill for its foreign clients. The saloons were 18 ft long, seating 24 on the lower deck on longitudinal bench seats and 26 on the upper deck on longitudinal back to back ("knifeboard") seats, all seats being made of cherry wood slats. The overall car length was 29 ft 8 in and the width was 6ft 9½ in. The lower deck windows were full drop and could be covered with cherry wood blinds with maple slats. The upper deck had a very light roof and open sides, as can be seen in the manufacturer's official photograph (shown here), but by the date of our postcard they seem to have been fitted with something more substantial. The cars were mounted on 6 ft 6 in wheelbase Brill 21E trucks with two GC1000 motors, and 33 in diameter wheels with 2½ in treads and ¾ in flanges.
La Capital merged with Anglo-Argentine in 1908, as did a number of the other tramways around this date. In June 1938 the Corporacion de Transportes de la Ciudad de Buenos Aires, a new company with British and local capital, was formed with legal powers to take over and operate all public transport in the city. This company was nationalised in 1948 and became Transportes de Buenos Aires in 1950. The last city tram ran on 19th February 1963, although a new light rail system opened in 1987.

Go to Postcard Of The Month Index




Reload Home if you linked directly to this page



Postcard of the Month is created by John R. Prentice © Copyright 2007