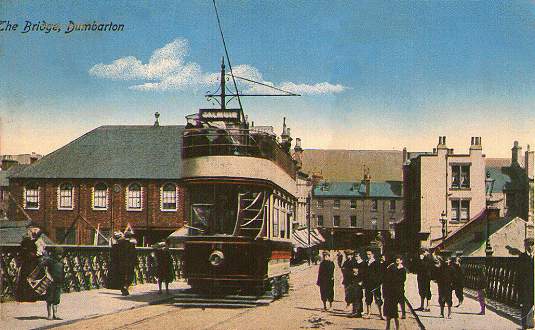 Dumbarton Burgh & County Tramways Car 14,
River Levan Bridge
February 2007 was the centenary of the opening of the electric tramways of Dumbarton in Scotland. Our postcard is in the Valentine's series and was produced around 1908. It shows the River Levan Bridge with car 14 which, according to its destination blind, was on its way to Dalmuir where the Dumbarton tramway met that of Glasgow Corporation end-on.
The tramway was built by Dick Kerr for the Electric Supply Corporation Limited (owned by Crompton & Co. Ltd., of Chelmsford, Essex), it being the only tramway owned by that power generating concern. Soon after opening, the operation passed to the Dumbarton Burgh & County Tramways Co. Ltd., an ECS subsidiary, with ECS continuing to provide the electricity supply. The initial route was opened on 20th February 1907 from Dumbuck via Dumbarton High Street to Dalreoch Quarry, with a branch to Barloan Toll. The main line was later extended to run from Balloch on Loch Lomond to Dalmuir West and a branch to Jamestown in February 1909 brought the total length of the tramway to just over 13 miles, mostly single track on country roads.
Car 14 was one from a batch of 20 open top cars built for the Dumbarton company in 1908 by the United Electric Car Company Ltd., of Preston. They seated 22 on the lower deck and 33 on the upper. They were fitted with Mountain & Gibson 4-wheel 21EM trucks with two 30 hp General Electric 54-ET motors and had General Electric K2 controllers. The fleet livery was originally brown and cream, but became green and cream c.1908. Like its neighbour, Glasgow, the track gauge was 4ft 7¾in to allow the operation of railway wagons (running on their wheel flanges) over the tramway. By 1920 the total number of cars had risen to 32.
It has been noted that the trolley heads used by Glasgow Corporation and those on the Dumbarton system were incompatible, thus preventing any through running and this, plus increased motor bus traffic in the 1920s, badly affected the system's profitability. The last car ran on 3rd March 1928.

Go to Postcard Of The Month Index




Reload Home if you linked directly to this page



Postcard of the Month is created by John R. Prentice © Copyright 2007