Terry Russell Trams
Tramway Modelling mainly in O gauge
Terry Russell Trams
Terry Russell manufactures and supplies a wide range of items which are useful in tramway modelling, especially for O gauge.
Check Terry Russell's own web site for further details of his range.
---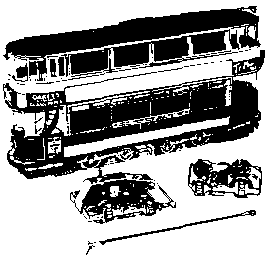 Brass O gauge tram kit
Now available is the Wistow etched brass body fret for a London E1 tram kit, that can be made up as L.C.C. or L.P.T.B. styles. In addition to the main brass fret, there is available a superdetail pack of whitemetal parts, a working truck set, a working trolley pole and a coloured advert set.

---
Scale plans
Drawing plans in 4mm (OO gauge), 7mm (O gauge) and 9.5mm (1 gauge 3/8":1 foot) scales of
British trams (about 300 drawings)
Continental trams from around the world (about 180 drawings)
British and continental buses (about 50 drawings)
British and continental trolleybuses (about 25 drawings)
London and Glasgow underground cars (about 15 drawings)
Narrow gauge trains (about 6 drawings)
Light railways (about 6 drawings)
---
Tram parts
He manufactures and supplies a range of mainly whitemetal British tramcar spare parts in O gauge including:
Seats
Stairs
Controllers
Lifeguards
Headlamps
Trolleypoles
Handbrakes
---
Mechanisms
Ready to run O gauge motorised or unmotorised low-floor tramcar trucks and bogies, wired for 2 rail or overhead, and a wide range of trucksides
---
Card kits
A wide range of card kits in OO gauge and O gauge from manufacturers such as Alphagraphix/Brumtrams, Streetscape, Classic Tramcars for:
British and continental trams
Buses
Trolleybuses
Buildings
Paving
---
Material
A range of model building materials are available:
Darvic PVC clear sheet 0.5mm thick
Bristol board high quality card 0.5mm thick
---
Contacting Terry Russell Trams
Terry Russell Trams operate "Mail Order" only, apart from attending model exhibitions, and do not operate a shop or have facilities for visitors. Please contact the Terry Russell Trams mail order service at:
Mr. Terry Russell,
23 Thornden
Cowfold
Horsham
RH13 8AG
England.
Email: terry@terryrusselltrams.co.uk
Web site: www.terryrusselltrams.co.uk

An illustrated catalogue and price list is available for £2.00.





Reload Home if you linked directly to this page



© Copyright Tramway & Light Railway Society 2020