Chris Cornell Tramways
Tram Kits
Chris Cornell Tramways
Chris Cornell, is the manufacturer of a range of etched brass tram kits for 00 and 0 gauges.
To complete these models additional parts will be required, such as lengths of wire for the handrails, motors, trucks, wheels, window glazing material, controllers and trolley poles.
Some modelling experience is needed for the construction of etched brass kits.
London County Council F and G Class Trams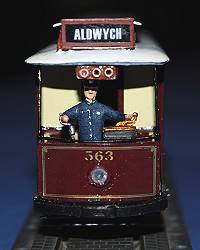 These very similar single deck cars (F class shown) were trolleyless and designed with all metal bodies for use in the Kingsway Tram Subway. Launched at the 2009 Festival of Model Tramways, Chris Cornell's latest project is two kits to build these interesting tram types.
London E/3 & HR/2 Trams
First shown at the 2006 Festival of Model Tramways, this is the much requested London E/3 and HR/2. These views of prototype body kits are the 00 version in unfinished brass (left) and a completed 0 gauge car (right).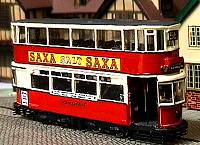 A trolleyless HR/2 in 00 gauge (above) built by John Prentice
from a pre-production version of the kit.
These etched brass sheets make a model of one of the 260 trams built from 1930 for London by English Electric and Hurst Nelson. Whilst the bodies were identical, class HR/2 was mounted on EMB roller bearing equal wheel bogies and the E/3 class were mounted on EMB Maximum Traction bogies. Of the HR/2s, 59 were not fitted with trolley poles and were mounted on EMB radial-arm bogies.
The body-only kit is currently available in the following versions:-
E/3 in 00 gauge
HR/2 in 00 gauge
Trolleyless HR/2 in 00 gauge
Makes either E/3 or HR/2 in 0 gauge
London Rehabilitated E/1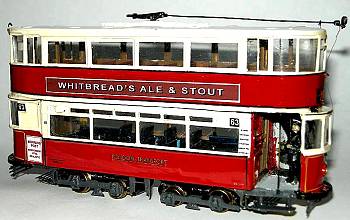 An E/1 in 00 gauge (above) built by John Prentice
from a pre-production version of the kit.
This kit makes a model of one of the 150 class E/1 trams rehabilitated by London Transport between 1935 and 1937. They were known to enthusiasts as class E/1r or "rehabs". The kit is not yet available.
---
Other Chris Cornell Kits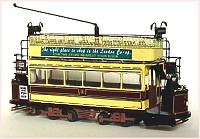 Chris Cornell's first etched brass kits in 2001 were for London United Tramways types X, W and Z in 4mm scale. The kits are for body only and provide most of the parts to produce the tramcars, including the wonderful upper deck wrought iron work which was so characteristic on these prototypes. New in 2004 were versions for the top covered U, U2 and Y types.
(Model in photo by John Prentice, to which extra parts have been added to finish W class kit as a Walthamstow ex-LUT car.)

There are kits for the construction of "Pilcher" cars in 4mm scale. They are in etched brass with the domed roof being resin. The kits can be made up for Manchester, Leeds, Sunderland, Edinburgh or Aberdeen.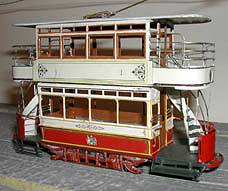 Also new in 2004 was a range of other Manchester cars. These cars are:- 4-wheel open top Milnes/Brush, early top covered, later top covered "small greenhouse", vestibuled, fully enclosed, open top bogie, balcony and a "Balloon".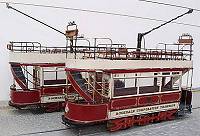 In 0 and 00 gauges is an etched brass kit based on the standard open top trams built at Preston by the Electric Railway & Tramway Carriage Works Ltd., and used by many tramway systems. The kit comprises of all body parts, but requires the addition of a trolley standard and pole, truck and brass wire for handrails etc.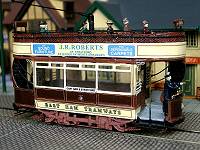 The 00 gauge Preston kit made up by John Prentice into an East Ham car.
For more details see Etched Brass Model Tram Kits where John Prentice describes how to construct this model.
---
Contacting Chris Cornell Tramways
Chris Cornell operates "Mail Order" only and does not operate a shop or have facilities for visitors. Please contact the mail order service at:
Chris Cornell,
33 Huggins Lane,
Welham Green,
Herts., AL9 7LJ,
England.

Tel: 01707 268846
Some Cornell kits are sold by KW Trams





Reload Home if you linked directly to this page



© Copyright John R. Prentice 2014