BRANCHLINES
Motors & Bogies
BRANCHLINES
BRANCHLINES is a UK importer and supplier of motors for model makers from a variety of Japanese manufacturers, many ideal for the tram modeller. They stock most of the motors in the Mashima range which includes both open frame and can motors. All are 5 pole 12 volt D.C. and range from 16mm to 33mm in length.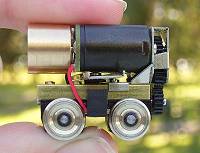 Also, Tenshodo, Black Beetle and BullAnt (shown on right) motor bogies can be supplied.
Another range held are the Hanazono motors, which are the ones fitted in Tenshodo motor bogies.
Spare motor brushes are available, as is a wide selection of flywheels, gearboxes and gears.

---
Contacting BRANCHLINES
BRANCHLINES operates "Mail Order" only and does not operate a shop or have facilities for visitors. Please contact the mail order service at:
BRANCHLINES,
PO Box 4293,
Westbury,
BA13 9AA,
England.

Tel/Fax: +44 (0) 1373 822231
Email: sales@branchlines.com
A list of products is available in the U.K. for £0.75 in stamps plus a stamped addressed envelope.







Reload Home if you linked directly to this page



© John R. Prentice Software 2021