Model Trams

Overseas Manufacturers of HOm/HOe gauge trams
Overseas Model Tram HOm/HOe Gauge (1:87 scale 12mm/9mm gauge) Manufacturers

Amarélis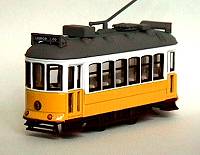 Amarélis market a tourist souvenir of a Lisbon tram in H0 scale (H0m).
This nice little model is modestly priced and a must for all collectors.
See H0 page for details of this model.

---

Bemo
The largest manufacturer of H0m model railway equipment is Bemo, who make models representing the Swiss metre gauge systems. Although there are no trams in their range, there are models of the original tram-like railcars built for the direct current Berninabahn section of the Rhätische Bahn, which had track brakes and ran in the streets at Tirano (and for a while on the streets of Chur on the Chur-Arosa line, now AC).

In the UK the Bemo range is available mail order only (no callers) from:
Winco

149 Alresford Road,

Winchester,

Hampshire, SO23 0JZ,

England.

Phone: 01962 869301

Fax: 01962 878788
---

Ferivan Modelbouw
See H0 page for Ferivan Modelbouw H0m
---

Halling
See H0 page for Halling H0e
---

Herrman and Partners
See H0 page for Herrman H0m
---

Hödl/Linie 8
See H0 page for Hödl/Linie 8 H0m
---

JellyModels
JellyModels is an Italian manufacturer of steam trams and associated items in H0e scale, both RTR and kits
See the JellyModels website.


---

Jocadis
Manufacturers of Belgian tramway (Vicinal ) HOm motorized tramcar model kits. Their Web site contains many pages in English.

Address:
sprl Jocadis bvba

TRAINS & TRAMS MINIATURE - TREINEN & TRAMS IN MINIATUUR

Rue de Bruxelles - 53 - Brusselstraat

ENGHIEN - 7850 - EDINGEN

BELGIUM

Tel: 0032 - (0)2 - 395.71.05

Fax: 0032 - (0)2 - 395.61.41

Email:webmaster@jocadis.com
---

Lima
See H0 page for Lima H0m
---

Luna-Tram
See H0 page for the Luna-Tram track system
---

Malutram Sarl
See Elody Tram Track System
---

Miroslav Barnet
See H0 page for Miroslav Barnet H0m
---

Navemo
See H0 page for Navemo H0m
---

Spieth
See H0 page for Spieth H0m
---

WMK
WMK are Austrian manufacturers of high quality brass models in H0e narrow gauge. Although most of the models are for railways, there is an open platform Ybbs tram, also available in closed platform and Mixnitz-St.Erhard versions.
The address for WMK is:
WMK

Chwallagasse 2,

A-1060 Wien,

Austria.






Reload Home if you linked directly to this page



© Copyright Tramway & Light Railway Society 2017