Frank E. Wilson (1905-1975)
A Model Tramcar Pioneer
Seen here alongside E/1 1800, is Frank Wilson's first tram, LCC E class 444, built in 1928. Photo: the late Graham Sidwell
Frank E. Wilson (1905-1975) - A Model Tramcar Pioneer
Frank E. Wilson is regarded by many as the pioneer of accurate working large-scale tram models built by an amateur. It is true that before him working models had been produced by manufacturers demonstrating their products and that there had been good static models, but Frank made them work and, what is more, exhibited them publicly.
Frank E. Wilson was born in Clapham, London, in 1905 within the sound of electric trams on the Clapham route and horse trams on the Wandsworth Road route. From the age of about four he seemed to take an interest in trams and later travelled to school on several routes around the period of the First World War when trailer cars were in use. As an undergraduate of the University of London, he studied at Battersea Polytechnic under A. T. Dover, the published authority on electric traction. As a student during the 1926 General Strike, he answered the call to help run the London County Council (LCC) tramways and spent five days at Clapham Depot where he learned to drive and conduct trams, although the strike ended before his services were required. He later became a Member of the Chartered Institute of Transport and a Fellow of the Permanent Way Institute, spending his working career with the LNER and then British Railways until he retired and moved to Guernsey, having family connections there.
Following from his adventures with the LCC, Frank decided to try his hand at building model trams. General arrangement drawings of LCC trams were to the ideal 1:16 scale (¾ inch to 1 foot scale) which could run on 3½ inch gauge track. Fortunately, at about this time, electric motors designed to power model boats came onto the market. They were expensive, but Frank realised that they were small enough to fit between the axles of a 1:16 scale car and be axle-hung as with the prototype. He completed LCC E-class car 444 in 1928 and showed it at the Model Engineer Exhibition on several occasions, adding a running track and additional models. In 1930 the young Richard Elliott met Frank at one of these shows and was inspired to work on model trams to similar specifications. By 1938 Richard Elliott was a founder member of the Tramway & Light Railway Society (TLRS) and was soon joined in 1939 by Frank Roche, (post-war, a professional model maker for Bassett-Lowke and producer of tram drawings in 4mm and 7mm scales) who also contributed fine models to this scale.
After the Second World War, Frank Wilson joined the TLRS, ultimately becoming its Chairman and President. By this date, large scale tramway modelling took off, in part due to the ready availability of cheap government surplus motors. Frank wrote several books on tramways and, after his retirement, produced a number of models of Guernsey trams on a commission from local resident Dr. Peter Plummer, and which are now in the care of Guernsey Museums and Galleries. Two of Frank's London models can be seen (on a rotation basis) at the Havering Museum.
Frank E. Wilson passed away in November 1975, but left behind him the legacy of having started these tram modelling projects some 47 years earlier, and for which we, the tram modellers of today, owe him a debt of gratitude.
The Models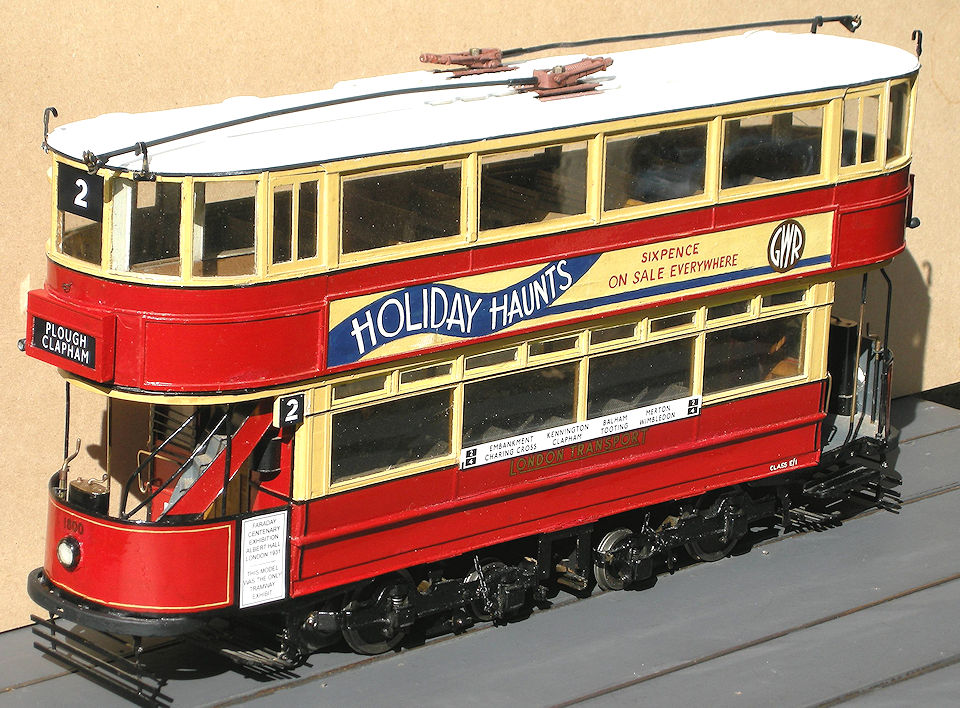 Frank's second tram was LCC E/1 1800 built in 1929.
It was the only electric tramway exhibit in the Faraday Centenary Exhibition of 1931.
It was later repainted in London Transport livery by Richard Elliott. Photo: John Prentice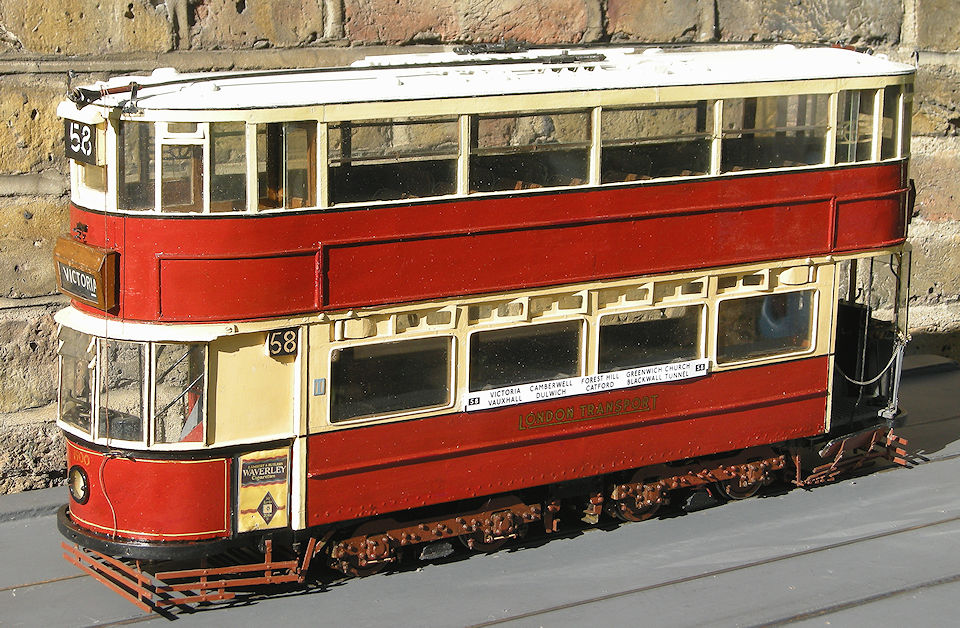 Another of Frank's pre-war models was London Transport ex-LCC HR/2 1900. Photo: John Prentice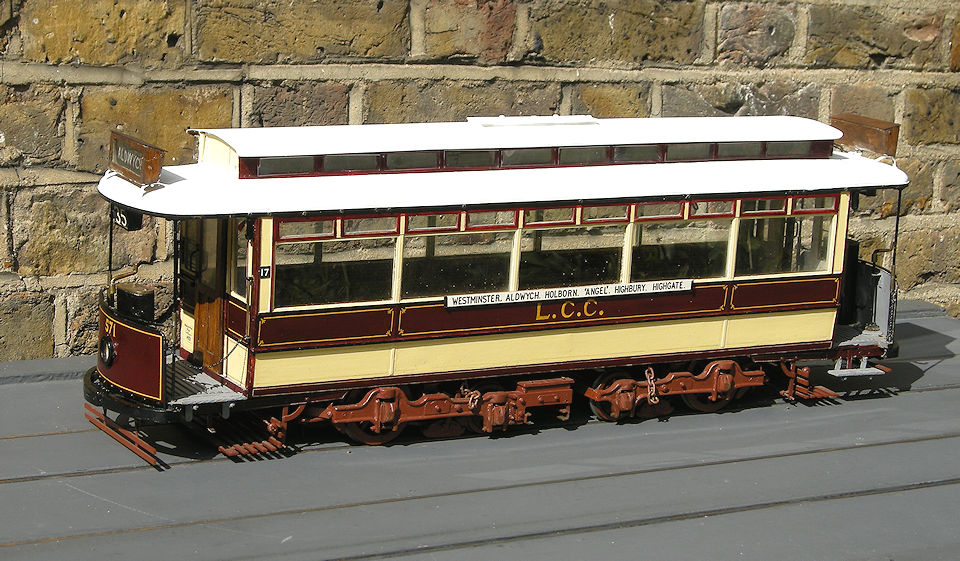 LCC G class car 571. These trams were used on the Kingsway subway routes prior to its enlargement for double-deckers in 1931.
They were conduit only. (Frank had a conduit layout). Photo: John Prentice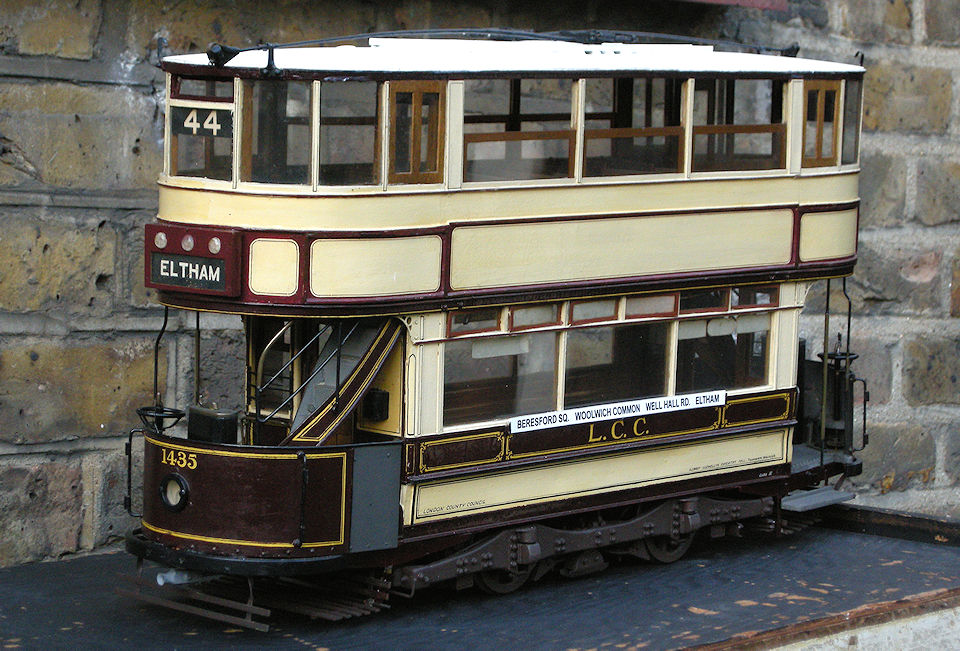 LCC M class car 1435. Frank Wilson sometimes used this tram to pull his trailer car, see below. Photo: John Prentice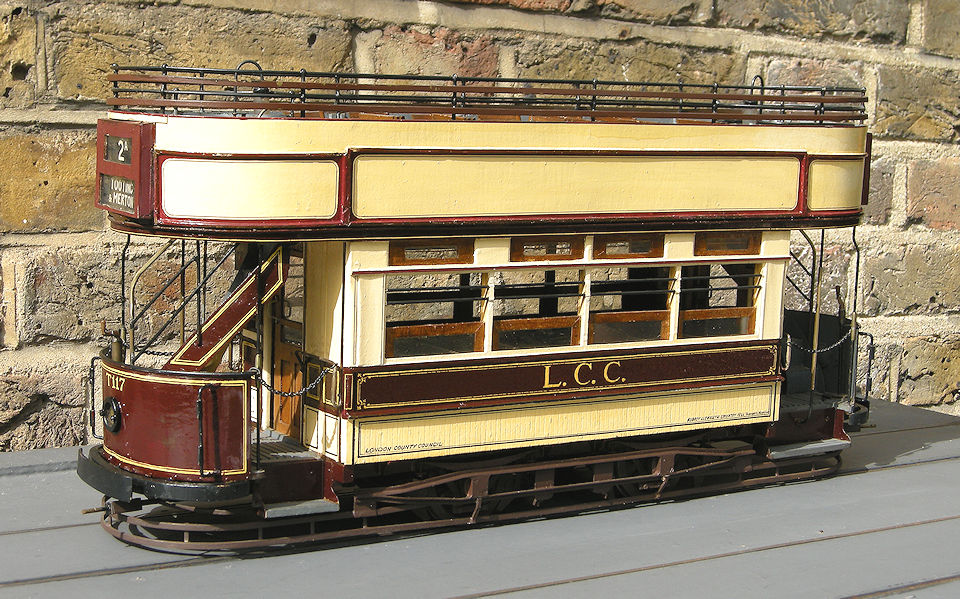 LCC trailer car T117. Frank had seen these cars in service, usually pulled by an E/1.
The model is shown here in the Museum of British Transport, Clapham in the mid-1960s. Photo: John Prentice collection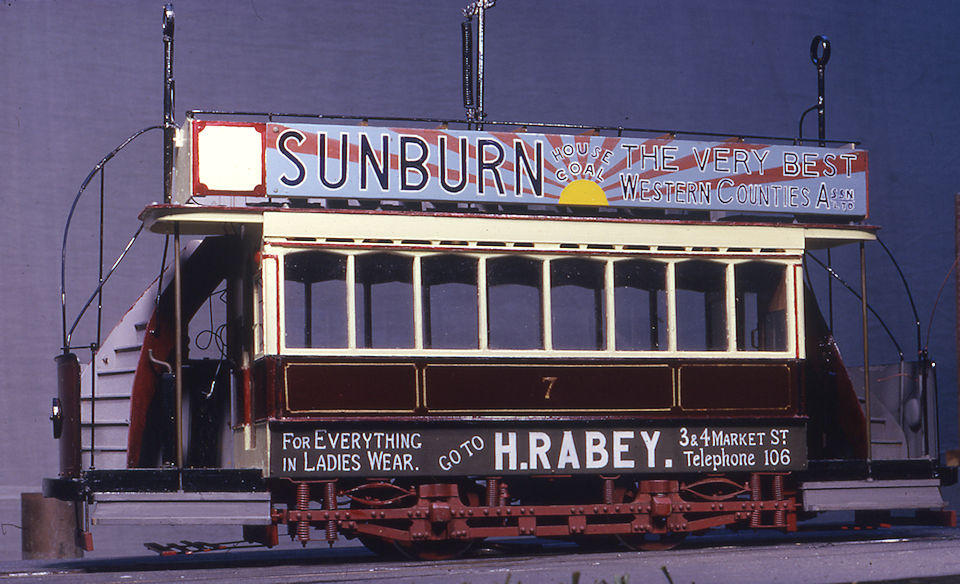 Guernsey car 7. Frank had relatives in Guernsey so built this model, which he later sold.
It was also in the Clapham museum. Photo: John Prentice collection
Contemporaries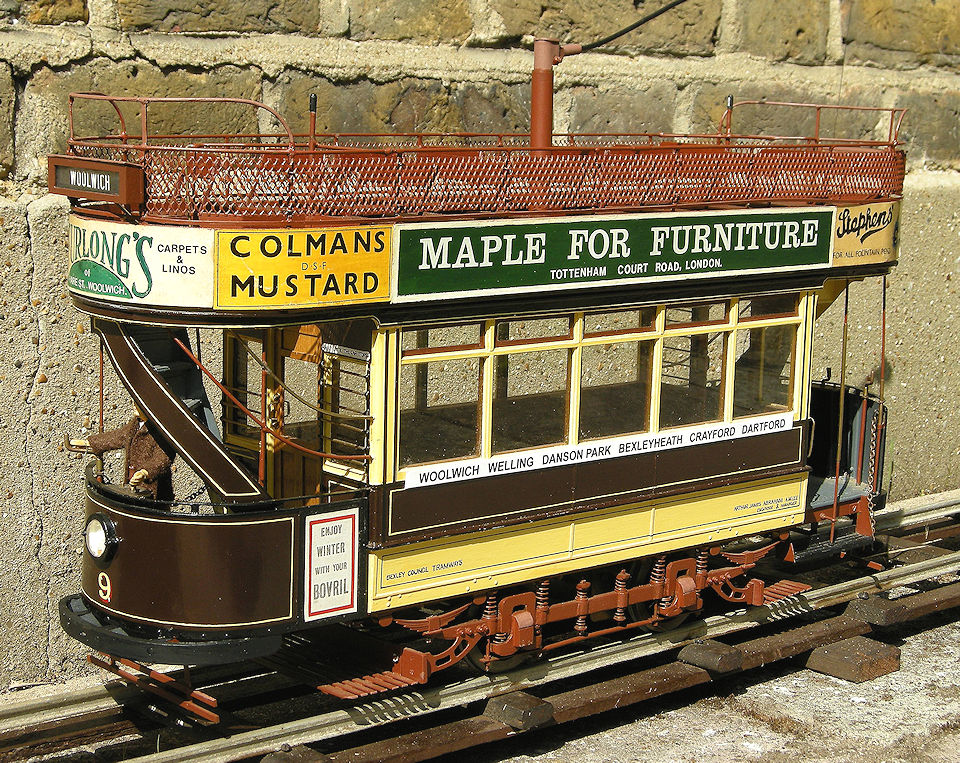 Richard Elliott was inspired by Frank Wilson after their meeting in 1930.
Bexley 9 was one of the last models built by Richard and was for a commission in 1981. Photo: John Prentice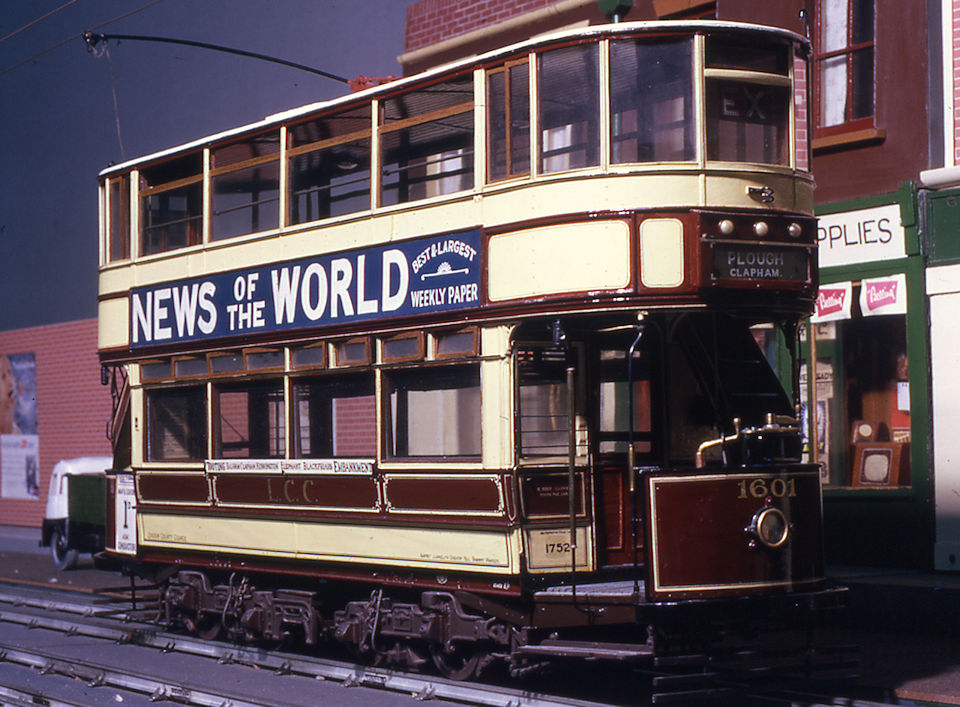 LCC E/1 1601 built by Frank Roche who was also inspired by Frank Wilson.
This model sometimes pulled Frank W.'s T117 trailer car. Photo: John Prentice collection







Reload Home if you linked directly to this page



© Copyright John R. Prentice 2022