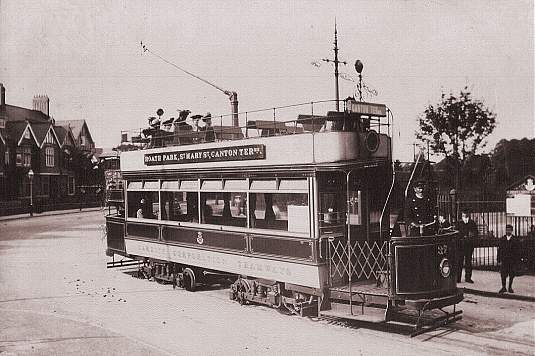 Cardiff Corporation Car 37, Roath Park
This fine photographic card from an unknown publisher shows Cardiff Corporation Tramways car 37 at Roath Park about to depart to Victoria Park, Canton via St. Mary Street. Our card was posted on 30th April 1904 and the photograph was probably taken just before that date.
The first tramways in Cardiff, South Wales, were standard gauge horse lines opened from 1872 by the Cardiff Tramways Company. From 1900 the corporation commenced building its own electric tramway. On 1st January 1902 the corporation took over the company tramways and started to electrify them. Electric services commenced in the city on 1st May 1902. New routes and extensions followed bringing the system to a maximum of nineteen and a half miles of route. During its lifetime the electric tramway owned some 242 trams.
Car 37 in our view was one of twenty (numbered 21-40) open-top 68-seat (30 inside, 38 on top) standard gauge cars built for the opening of the tramway in 1902 by the Electric Tramway & Carriage Works Ltd. of Preston. They were mounted on pairs of Brill 22E maximum-traction bogies, each bogie having a Dick Kerr DK25A 25 horsepower motor and used Dick Kerr DB1 Form K controllers. The system livery was crimson lake and cream.
By the 1930s, track wear caused some routes to be replaced by buses but in 1934 the corporation obtained powers to operate trolleybuses, the first running on 1st March 1942. Trolleybuses then systematically replaced the trams, with the last tram in public service, car 112, running on the Whitchurch Road route on 19th February 1950. The ceremonial official closure took place the following day using car 11. The trolleybuses were later replaced by motor buses, the last running on 11th January 1970.

Go to Postcard Of The Month Index




Reload Home if you linked directly to this page



Postcard of the Month is created by John R. Prentice © Copyright 2006