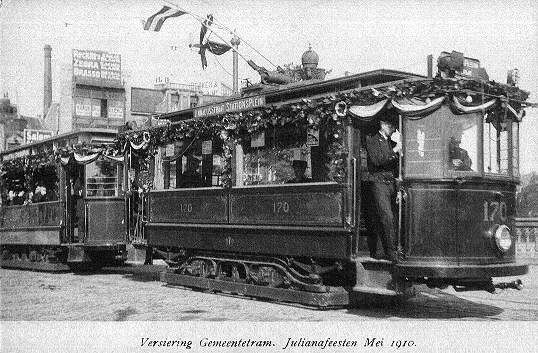 Amsterdam 'Union' Car 170, Julianafeesten
Trams in Amsterdam originated from 1875 when the first of eight horse-bus routes was converted to standard gauge horse tramway. By 1896, seven further horse tram lines were in operation, making fifteen in all. On January 1st 1900, the Gemeente Tram Amsterdam (GTA or the Municipal Tram Amsterdam) took over 242 horse trams and 758 horses from the previous owner, the Amsterdam Omnibus Co., and on August 14th 1900 the first section of electric tramway opened.
As well as depicting an excellent view of tram 170, our postcard this month also relates to a now obscure royal occasion in 1910. In translation, the title reads "Decorated Municipal Tram. Juliana Celebrations May 1910" and it was published by the well-respected N.J.Boon of Amsterdam.
Electric car 170 was one of 215 trams (nos. 15-229) of the same design built by three different manufacturers in three different countries between 1902 and 1904. Cars 15-39 and 50-154 were built by the Hungarian Waggon and Machine Co. at Raab, Austro-Hungary (now Györ in western Hungary); cars 40-49 and 155-179 were built by Werkspoor in Amsterdam and 180-229 came from Van der Zypen & Charlier in Cologne, Germany. The Union Elektrizitäts Gesellschaft of Berlin supplied the electrical equipment for all cars and, because of the ornate lettering of the name 'Union' on the tops of the controller plates, they were soon nicknamed 'Unions' by staff and public alike. Most of these trams had 1.8m (6ft) wheelbase four-wheel trucks fitted originally with two 20-hp motors. The very last of these cars remained in service until 1951.
In our picture, car 170 is outward-bound eastwards from the city centre on route 9 from Stationsplein (the present-day 'tramway centre') to Linnaeusstraat and is seen traversing the 'Blauwbrug' (Blue Bridge) over the Amstel having just exited Amstelstraat. As originally built and delivered, all the cars of this series had open platforms typical of the period but between 1907 and 1910 all were fitted with five-window enclosed platforms. The two large windows on each side made the interior bright even though it was finished in dark polished teak and walnut. There were wooden bench seats along each side. Outside, the cars were painted in dark blue with varnished walnut panels under the side windows and the decoration was completed with gold-leaf lining and numbers.
Car 144 is a survivor and has recently been lovingly restored to First World War condition and can be seen operating as a museum tram in Amsterdam from time to time. The body of car 72 became a garden shed from 1950 but was rescued in 1985 and a start was made on restoration. More recently but well before completion, a decision was made to convert it back to original open-platform condition but in the guise of tram no. 2 of The Hague - the early cars there were virtually identical to those in Amsterdam.
The trailer in the postcard view is one of those then newly delivered from Werkspoor numbered 401-420 that were converted to motor cars 301-320 in 1913. Remarkably, one of this series (307) has also survived and was recently restored to 1914 running condition.
Amsterdam today has some 17 tram routes, still with much street-running in the central area, and a large fleet of modern trams. A substantial museum line is to be found in the south-west of the city.
And the royal occasion shown on the postcard? Princess Juliana was born to Queen Wilhelmina on April 30th 1909 in The Hague but it was over a year before the Queen made a royal visit with her baby daughter to Amsterdam. The city was packed with well-wishers to see the new princess and many events were organised, all recorded on commemorative postcards of the day. Juliana later became Queen of the Netherlands (1948-1980) before abdicating in favour of her own daughter Princess Beatrix. Ex-Queen Juliana died in March 2004 but her birthday of April 30th remains an annual public holiday in Holland.

Go to Postcard Of The Month Index




Reload Home if you linked directly to this page



Postcard of the Month is created by John R. Prentice © Copyright 2006