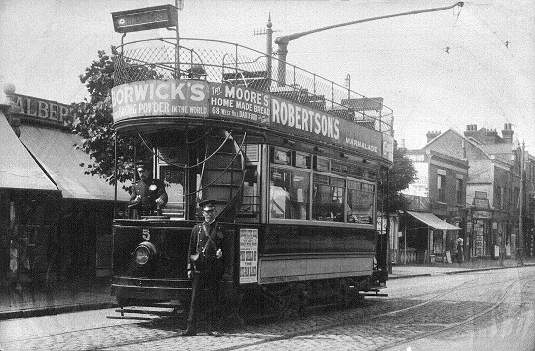 Dartford & District Light Railways Car 5,
Bexleyheath Market Place
February 2006 was the centenary of the opening of the electric tramways in the borough of Dartford, Kent in south-east England. Our postcard, a superb real photographic card from an unknown publisher, shows car 5 of the Dartford system standing at Bexleyheath Market Place, circa 1910. Real photographic cards of this quality are rare and sought after, but this one is exceptional as the Dartford system was only infrequently photographed.
The Dartford & District Light Railways were owned by Dartford Urban District Council (UDC), but were built and initially operated by J.G.White & Co. Ltd. From 1909 the operation of the tramway was leased to Balfour, Beatty & Co. The main route opened on 14th February 1906 and ran west from Horns Cross along the London Road to Dartford and then via Crayford to the borough boundary with Bexley. From 27th August the tracks were joined to those of Bexley UDC and the route then continued to Bexleyheath Market Place, the location of our view. A short branch ran from Dartford town centre north to the railway station and tram depot, and another branch ran south from the town centre to Wilmington via Lowfield Street. The six and a half mile long tramway was standard gauge and used single track with passing loops.
The eastern terminus of the Dartford UDC tramways at Horns Cross was less than two miles from the western extremity of the Gravesend and Northfleet tramway at Craylands Lane, Swanscombe, also known as Swanscombe Cross. Although Dartford UDC received powers in 1912 to build an extension to join the two systems, the work was never carried out.
Car 5 was one of a batch of 12 built by the United Electric Car Co. Ltd. of Preston in 1906 for the opening of the line. They were double-deck open-top with 22 seats in the lower saloon and 32 on the top deck. They had spiral 180 degree staircases and were fitted with Dick Kerr DB1 form C controllers. They were mounted on 4-wheel Brill 21E 6 ft wheelbase trucks with two 25 horsepower Dick Kerr DK25A motors and magnetic track brakes. The livery was maroon and cream. In addition, Dartford also had one Raworth demi-car built in 1906 and bought from Erith UDC tramways in 1915.
Dartford tramways as such came to a sudden end when the depot and whole fleet was destroyed in a fire on 7th August 1917. The routes however, were then run by Bexley Tramways (from April 1921 under a joint committee of the two councils) using ex LCC cars, passing to London Transport on 1st July 1933. The Wilmington branch was closed on 19th April 1934, being replaced by additional buses on Country Bus route 401. The main line had been combined with a Bexley route to be operated through to Woolwich, which on 3rd October 1934 was numbered by LT as 96, and this was converted to trolleybus route 696 on 24th November 1935, using Class B2 vehicles. The Dartford to Horns Cross section was replaced by additional motor buses on existing routes. The trolleybuses themselves were replaced by RT type motor buses on 3rd March 1959.

Go to Postcard Of The Month Index




Reload Home if you linked directly to this page



Postcard of the Month is created by John R. Prentice © Copyright 2006