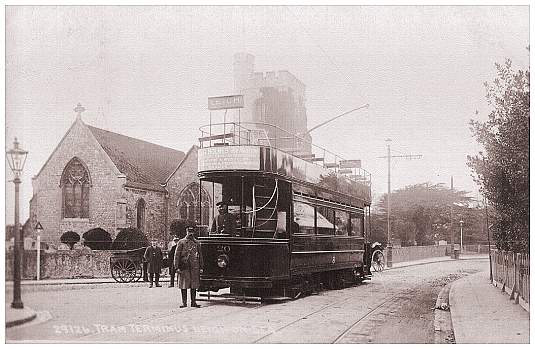 Southend-on-Sea Corporation Car 20, Leigh-on-Sea
On the northern shore of the Thames estuary to the east of London is Southend-on-Sea, whose corporation opened a 3ft 6in gauge electric tramway on 19th July 1901. This postcard was published by John Walker & Co. of London and is view 29126 in their "Bell's Series". It is a photographic card showing car 20 at Leigh-on-Sea tram terminus and dates from around 1905, our copy being posted on 29th July 1906.
The Southend tramway was built under the Southend-on-Sea and District Light Railways Order of 1899, so strictly speaking was a light railway. The initial two routes radiated from Victoria Circus near the Great Eastern Railway's Victoria Station. A little later, the route along London Road to Chalkwell and Leigh-on-Sea opened on 9th August 1901. By 1914 the system had grown to just over 9 miles of route and the fleet had expanded to 42 cars. Increased holiday traffic after WW1 was catered for by more cars, bringing the total fleet to 62 double-deckers and 6 single-deckers.
Car 20 in our view was one of five (numbered 18-22) open-top 64-seat (30 inside, 34 on top) cars built in 1904 by Geo. F. Milnes & Co. Ltd. of Hadley, Shropshire. They were mounted on pairs of Brill 22E maximum-traction bogies, each bogie having a Westinghouse 25 horsepower motor and used Westinghouse controllers. In 1920 they were fitted with magnetic track brakes. In 1921 they received English Electric K3B controllers, followed by English Electric DK30B 40 h.p. motors in 1923. In 1925 enclosed top covers and vestibules were fitted, increasing the upstairs capacity to 39. Car 20 was scrapped in 1939. The fleet livery in the early days was various combinations of dark and light greens, 18-22 being originally olive green and sage green, but after 1921 the livery become shades of green and cream.
On 16th October 1925 Southend introduced their first trolleybus route and in 1928 replaced trams on the Prittlewell route with trolleybuses. In the 30s more tram routes were replaced by trolleybuses as tracks became worn and needed replacement, and on 8th April 1942 the last tram ran, this being on the Leigh - Victoria Circus - Kursaal route. The trolleybuses themselves were replaced by motor buses, the last one running on 28th October 1954.

Go to Postcard Of The Month Index




Reload Home if you linked directly to this page



Postcard of the Month is created by John R. Prentice © Copyright 2005