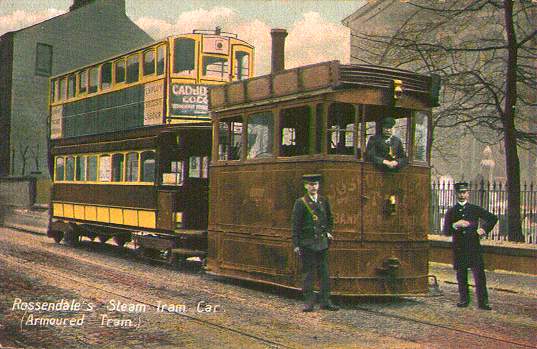 Rossendale Steam Tram and Trailer
When 'coal was king', many towns of industrial Lancashire were strongholds of steam tramways, from the 1880s until early this century. The postcard above depicts a steam tram engine and trailer of the Rossendale Valley Tramways Company. This system opened on January 31st 1889 and most of the rolling stock dated from the same period. The company operated on 6.35 miles of 4ft gauge track (a common gauge in the area) between the towns of Rawtenstall and Bacup. These two boroughs bought the steam tramway in 1908 and soon replaced it by an extended electric tramway. The last "Armoured Tram" (so called locally because of the metal cladding on the steam engine) ran on July 22nd 1909.
The locomotive shown, No.9 built 1889, was one of a dozen constructed for Rossendale by Thomas Green of Leeds. It had a horizontal boiler, inclined inside cylinders with Joy's valve gear and a Falcon type condenser, and was 11ft 6in in overall length. Cylinders were 9in diameter by 14in stroke. Wheels were 2ft 6in diameter with a 5ft 6in wheelbase. Also note the wire "life protector" fitted to the front of the vehicle. Two of these locomotives were retained by Rawtenstall for use as snowploughs, at least one (No.6) surviving until after the official closure of electric tramways. The trailer, probably built by G.F.Milnes & Co., was fully enclosed on the upper deck, a feature which the Board of Trade would not allow on the narrower 3ft 6in gauge steam tramways, such as those in Birmingham.
The Rawtenstall electric tramway system closed on the 31 March 1932. A week later a full civic procession of a Leyland Double deck bus, two Brush electric bogie cars of 1920 and one of the steam tram locomotives travelled from Bacup to Rawtenstall.
The postcard view is taken outside Rakefoot Methodist Chapel, Crawshawbooth and dates from about 1906, although this example was posted in 1908. This was at the northerly terminus of the route from Rawtenstall, opened in 1891. There are no passengers in evidence, but the driver and conductor are joined in a leisurely pose by what looks like an inspector, on the right of the picture. One of the crew in the picture, the conductor, was called William Dust. At his funeral the Vicar is said to have made the classic comment of "Dust to Dust to Dust". The driver was Dick Walmsley and the third man was an inspector. The card was published by Constantine's Stationers of Accrington in their "Constant" series. No official records tell us of the tramway livery and this card showing a chocolate and cream colour may, or may not, represent an approximation to reality. Side panel advertisements on the trailer exalt us to 'Employ British Labour'!

Go to Postcard Of The Month Index




Reload Home if you linked directly to this page



Postcard of the Month is created by John R. Prentice © Copyright 1999