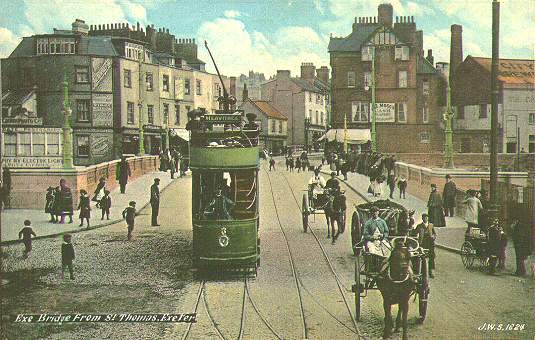 Exeter Corporation Tramways Car 3, Exe Bridge
The year 2005 marked the centenary of the opening of electric tramways in the Devon city of Exeter. Our postcard is number 1624 in a series published by J.Welch & Sons of Portsmouth and marked "Trichromatic P.C. printed at our works in Belgium". It dates from late 1906 and includes tram number 3 going to Heavitree. The view shows the Exe Bridge and is taken from near St. Thomas railway station.
The Exeter tramways began life on 6th April 1882 as horse lines, being taken over by the Corporation in 1904 and electrified, service commencing on 4th April 1905 with the first car, number 1, being driven by the Mayor, Alderman E.C. Perry. The initial routes were St.Davids station to High Street via Queen Street and Guildhall to Heavitree Road. These routes soon gained small extensions, the last being on 22nd September 1906 along Alphington Road, the branch that can be seen in the foreground of our picture. This brought the system to just under 5 miles in length. The track gauge was 3ft. 6in. and at its maximum the tramway had 33 cars, all open top 4-wheelers.
Car 3 in our view is one of the initial batch of 12 open top cars built by the Electric Railway and Tramway Carriage Works Ltd of Preston for the opening of the electric tramway in 1905. They had 20 seats on the lower deck and 22 on the upper. They had Brill 21E four-wheel trucks each with two Dick Kerr 6A 25-horsepower motors operated by Dick Kerr DB1 Form E controllers. The livery was dark green and cream (a lighter green from 1925).
New cars bought in the mid-1920s were fitted with windscreens and were found to be a great improvement for drivers, so similar screens were fitted to earlier cars. In the late 1920s further extensions were considered and in fact four new trams were purchased from Brush in 1929 with this in mind, but in the end motor buses were used and the tram system was closed on 19th August 1931. Just prior to closure the four nearly new 1929 cars were sold to Halifax and nine other post WWI Brush cars were sold to Plymouth.

Go to Postcard Of The Month Index




Reload Home if you linked directly to this page



Postcard of the Month is created by John R. Prentice © Copyright 2005