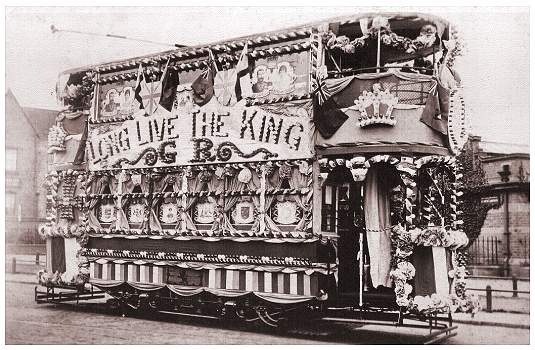 Nottingham Illuminated Car, Coronation of King George V
In the early days of tramways it was common for systems to decorate and illuminate cars for special occasions and for local photographers and postcard publishers to record the event. The postcard shows a car in Nottingham celebrating the Coronation of King George V on 22nd June 1911. Our example was posted just eight days later on 30th June from Nottingham to Namur in Belgium. The card was published at Pelham Street, Nottingham and is one of the "Cobden" series of cards. This view was also published by Montgomery and Company. It was taken just outside one of the depots, probably Trent Bridge where the works was located.
The tram itself was a Nottingham Corporation open balcony car with direct stairs, probably in the series numbered 116 to 125. These were built in 1908 by the United Electric Car Company of Preston and seated 60. They had Brill 21E 4-wheel trucks with two Dick Kerr 35 horse power motors supplied with electricity via Dick Kerr DB1 K3 controllers.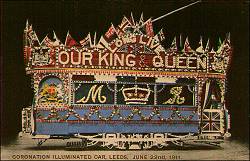 On the side of the Nottingham car seen in our postcard the lights read "Long Live the King - GR". The other side said "Long Live the Queen - MR" for Queen Mary. This can be seen in our Decorated Tramcar Photograph, taken inside the depot. The practice was fairly common and the small view shows a car in Leeds decorated for the same coronation with the initials MR in the windows and which had GR on the other side. The Leeds view is from a postcard published by W & T Gaines of 8 Upper Fountaine Street, Leeds.

Go to Postcard Of The Month Index




Reload Home if you linked directly to this page



Postcard of the Month is created by John R. Prentice © Copyright 2005