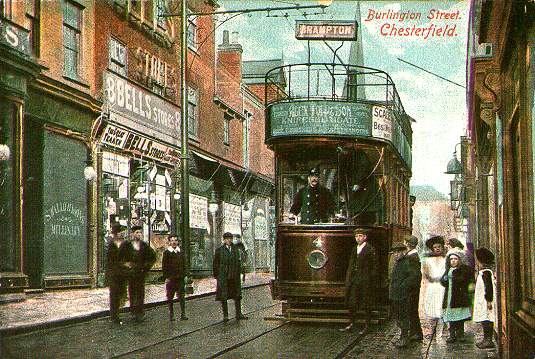 Chesterfield Corporation Tramways 4, Burlington Street
The end of 2004 marked the centenary of the electric tramways in Chesterfield, a town in Derbyshire perhaps better known for its Church of St Mary and All Saints with the twisted spire. Our postcard shows car 4 driven by motorman Stone and stopping in Burlington Street on its way to Brampton. It is card number 493 in the "Scott" series published by Scott Russell & Co. of Birmingham and printed in Saxony. The object hanging on the right hand wall is a metal replica beehive, the trademark of the Beehive Drapery.
Tramways in Chesterfield began life as standard gauge horse lines operated from 8th November 1882 by the Chesterfield and District Tramways Company and taken over by the Corporation on 22nd November 1897. The Corporation ran the tramway well and set about electrifying it in August 1904. It was passed by the Board of Trade inspector on 19th December 1904. There is some doubt over when the public service actually started, 20th, 21st and 23rd all being quoted by different sources. The system was just a line single track with passing loops forming a route of 3.6 miles in length from Brampton to Whittington Moor via the Market Place, operated in two halves.
Car 4 in our postcard was one of a batch of twelve open top cars built by the Brush Electrical Engineering Company Limited of Loughborough for the opening of the tramway in 1904. They seated 22 downstairs and 34 upstairs and had Brush Conaty 8ft 6in wheelbase radial 4-wheel trucks with two Westinghouse 25 horse power motors supplied with electricity via Westinghouse 90 controllers. The fleet was later extended with two additional cars from Brush in 1907 and three top covered open balcony cars in 1914 and there was a water car from Brush in 1909. Seven cars were fitted with top covers in 1919/20. The livery was carmine red (maroon) and primrose.
The system's life was fairly uneventful but also unprofitable. In 1916 a depot fire destroyed two cars and damaged several others and in 1926 a broken axle caused car 8 to run away on Stonegravels hill and derail at the Albert Street loop, hitting a butcher's shop but without causing casualties. The worn condition of the tramway brought about its replacement with a fleet of 14 single deck Straker-Clough trolleybuses from 23rd May 1927, the last tram being car 14. The trolleybuses were themselves replaced by motor buses on 24th March 1938. Chesterfield electric car 7 and horse car 8 are preserved at the National Tramway Museum at Crich, Derbyshire.

Go to Postcard Of The Month Index




Reload Home if you linked directly to this page



Postcard of the Month is created by John R. Prentice © Copyright 2004