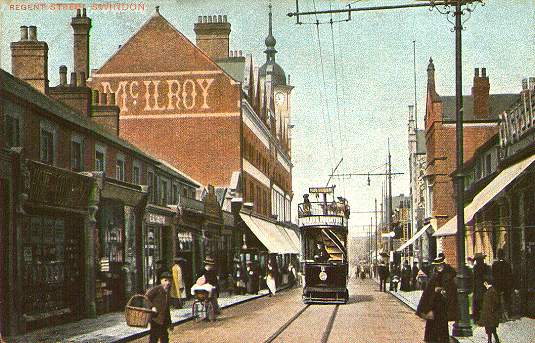 Swindon Corporation Tramways Car 3, Regent Street
The year 2004 was the centenary of the opening of the small tramway in Swindon, Wiltshire, a town better known for its connections with the Great Western Railway who had their main works there. Posted on 20th August 1907, our card is number 20057 in the "Kroma" series, published in London by Blum and Degen (B&D) and printed in Saxony.
This tramway consisted of 3.7 miles of 3ft 6in gauge track with just 13 trams. There were three routes radiating from the GWR station to Rodbourne serving the GWR works, to Gorse Hill and to Old Town terminating at the Corn Exchange. The first car ran on 22nd September 1904. A further five miles of tramway were authorised but never built.
Car 3 in our view was one of the original batch of seven open top cars built in 1904 by the Electric Railway and Tramway Carriage Works Ltd., of Preston. They seated 22 inside and 26 on top. They were fitted with Brill 21E four-wheel trucks with two Dick, Kerr 6A 35hp motors and Dick, Kerr DB1 Form E controllers. The livery was maroon and cream
The history of the system was fairly uneventful except for an accident on 1st June 1906 when car 11 ran away down Victoria Road on the Old Town route, and on the curve at the bottom of the hill overturned killing five and injuring at least thirty-four. In 1928 the Borough Surveyor condemned the track due to its poor condition and the tramway closed on 11th July 1929, being replaced by motor buses.

Go to Postcard Of The Month Index




Reload Home if you linked directly to this page



Postcard of the Month is created by John R. Prentice © Copyright 2004