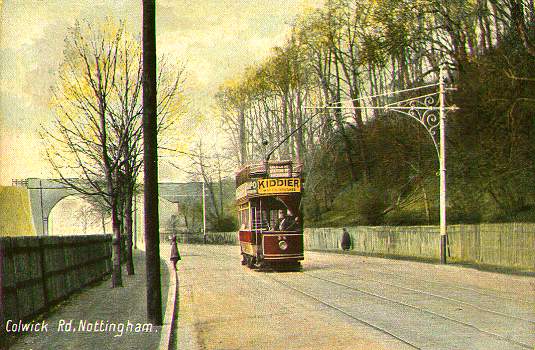 Nottingham Corporation Tramways Car 38, Colwick Road
With Nottingham in the news in 2004 for the opening of its new tramway (on 9th March), it is appropriate to look back at the original city tramway. Our postcard shows Nottingham Corporation car 38 in Colwick Road on the route from there to Sherwood (of forest and Robin Hood fame) via Station Street. The view is at the Colwick Road terminus looking west in the direction of the city centre, with the G.N.R. railway bridge in the background. The card was printed in Britain and is no.363 in the "Clumber" series from local card publisher A. Hindley. Our example was posted on 6th November 1914, but the view probably dates from about ten years before that.
The Nottingham city tramways began life on 17th September 1878 as the standard gauge horse car system of the Nottingham and District Tramways Co. Ltd. On 16th October 1897 it was taken over by the Corporation who set about electrifying and extending the system, with the first electric tram running on 1st January 1901. By the mid 1920s the system covered over 25 miles and had around 200 cars but by then abandonment was in sight. On 10th April 1927 the Nottingham road line was replaced by trolleybuses and further conversions took place with the last tram running on 5th September 1936, the trolleybuses system itself closing on 1st July 1966. In addition to the corporation, from 1913 to 1932 the Nottinghamshire and Derbyshire Tramways Company operated 24 trams on three miles of city tracks and northwards some eleven miles to the towns of Ripley and Ilkeston, also continuing from 1932 until 1953 with trolleybuses.
Car 38 in the picture was built for the corporation in 1901 and was one a batch of 57 similar open top electric cars from the Electric Tramway and Carriage Works Ltd. of Preston. They seated 22 on the lower deck and 34 on the upper. Car 38 had a Brill 21E four-wheel truck with two Dick Kerr 25 horse power DK25A motors and Dick Kerr DE1 Form A controllers. The livery was maroon and cream.

Go to Postcard Of The Month Index




Reload Home if you linked directly to this page



Postcard of the Month is created by John R. Prentice © Copyright 2004