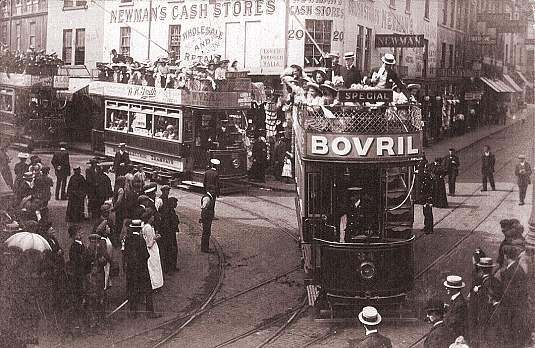 Bath Electric Tramways Cars 34 & 22, Lower Borough Walls
January 2004 marked the centenary of the opening of electric tramways in the City of Bath. Our postcard, a real photographic card from an unknown local publisher, shows a "special" tour using cars 34, 22 and one other, in Lower Borough Walls at its junction with Southgate Street. It was posted on 19th August 1908 and the photo dates from that period.
The standard gauge electric tramways commenced on 2nd January 1904, being an electrification and extension of the previous 4ft gauge horse tramways. Routes ran from the city centre northeast to Bathford, south to Combe Down, southwest to Oldfield Park, west to Twerton and Newton St. Loe and northwest to Weston giving a total of just under 15 miles of route.
The tramway operated some 34 double-deck and 6 single-deck trams in a very bright blue and primrose livery. The cars were all built in 1903 and 1904 by G.F.Milnes of Birkenhead, having two 30 h.p. motors and controllers from British Westinghouse, and 6ft. wheelbase trucks built to Milnes specifications by Busch of Bautzen, Saxony. The double-deckers (numbered 1- 34) seated 22 inside and 33 on top, the single-deckers (numbered 50-55 and used on the Oldfield Park route) seated 30. There was also a water/sweeper car built in 1903 by Brecknell, Munro & Rogers Ltd. of Bristol.
There were frequent suggestions that the tramway should join up with the nearby Bristol system but this never happened, although in December 1936 the Bath system was taken over by the Bristol Tramways and Carriage Co. Motor bus competition, including that operated by the tramways companies themselves, caused the systematic closure of routes from 3rd November 1938, with the last tram running in Bath on 6th May 1939.

Go to Postcard Of The Month Index




Reload Home if you linked directly to this page



Postcard of the Month is created by John R. Prentice © Copyright 2004