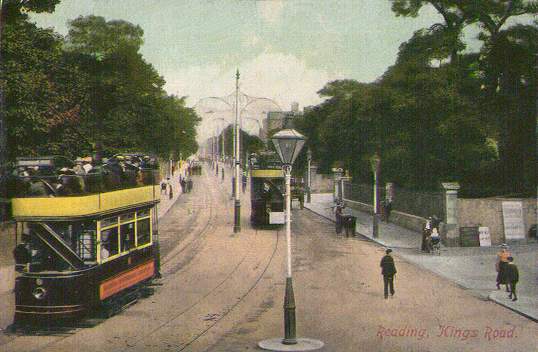 Reading Cars 9 & 13, Kings Road
July 2003 was the centenary of the opening of the electric tramways in Reading, Berkshire. Our postcard shows trams 9 and 13 in Kings Road. It is number 52011D in the series by F. Frith and Co. Ltd. of Reigate. It was posted on 18th May 1910 but probably dates from a couple of years earlier.
The system, built to the unusual 4ft. gauge, began life as a horse tramway. This was opened on 5th April 1879 and operated by the Reading Tramways Company, a subsidiary of Imperial Tramways. On 1st November 1901 the line was taken over by Reading Corporation who set about electrifying and extending it to give just under seven and a half miles of routes, serving Oxford Road to Wokingham Road via Broad Street (the main line), London Road, Erleigh Road, Bath Road, Whitley and Caversham. The depot was in Mill Lane. The first electric tram ran on 22nd July 1903. (see historic photo).
Cars 9 and 13 are of the original series of thirty trams, built at Preston by the Electric Railway & Tramway Carriage Works Ltd. in 1903. They had 6ft. 6in. wheelbase Brill 21E 4-wheel trucks with two 25 horse power Dick Kerr 25A motors. Controllers were Dick Kerr DB1 form B. The bodies were "three window" open top double-deckers with reversed stairs and seating 22 on the lower deck and 28 on the upper. During the 1920s they were re-bodied at Mill Lane and given "four window" sides, quarter turn direct staircases and enclosed driver's platforms. There were also six similar but larger cars, built by ER&TCW in 1904 and mounted on Brill 22E bogies and a 4-wheel works car which was a combined water car, rail grinder and snow plough. The company livery was claret and cream.
Due to competition from motor cars and both private and the Corporation's own motor buses, and with the trams being blamed for congestion at their termini, the system closed in stages during the 1930s, with the last tram running on 20th May 1939. Most of the tram routes were replaced by trolleybuses which ran in Reading from 18th July 1936 until the final demise of electric street traction in the town on 3rd November 1968.

Go to Postcard Of The Month Index




Reload Home if you linked directly to this page



Postcard of the Month is created by John R. Prentice © Copyright 2003