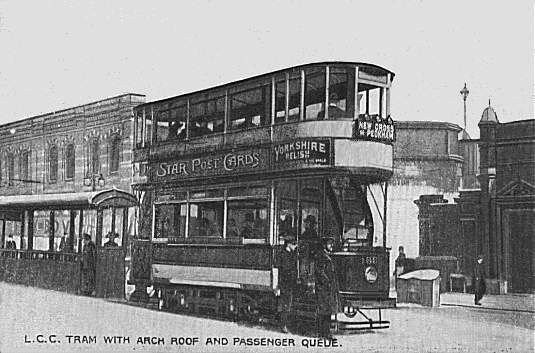 London County Council Car 186, Blackfriars
May 2003 was the centenary of the opening of the London County Council's electric tramways (see Postcard of Opening).
This L.C.C. card shows car 186 at the original Blackfriars terminus by Stamford Street, about 200 yards from Blackfriars Bridge on the south bank of the River Thames. It is unposted but dates from around 1908 and was printed in Bavaria, being published by Gottschalk, Dreyfuss and Davis in their "Star" series. Note the tram's upper deck advertisement has been retouched to read "Star Post Cards". The caption says "L.C.C. Tram with arch roof and passenger queue". The tram's destination tells us that it is going to "New Cross and Peckham".
Car 186 was one of a batch of 100 4-wheel trams of class B ordered from Dick Kerr at the commencement of electric tramways and delivered in 1903. They had the standard "Preston" type three window body built by the English Railway and Carriage Co. Ltd., seating 22 passengers on the lower deck and 34 on the upper, with Dick Kerr DB1 form D controllers and two DK25A 25 horse power motors. They were mounted on Brill 21E trucks of 6ft. 6in. wheelbase with the plough carrier fixed midway between the axles. As built, these cars were open top with reversed stairs but from 1904 onwards they were fitted with top covers, at first open balcony and later with enclosed upper decks as in our postcard. The reversed stairs were replaced by direct stairs from 1906 giving a better driver's view and allowing the police restriction of a top speed of 12 m.p.h. to be raised to 16 m.p.h. They were painted in the L.C.C. livery of purple lake and cream (primrose).
The electric tram service from Blackfriars to New Cross and Peckham commenced on 17th January 1904. The terminus at Blackfriars in our postcard had three tracks with the passenger shelter in the view in the middle of the road. Blackfriars Bridge was too narrow for tramways but was widened and the tracks were extended over the bridge and onto the Embankment opening on 14th September 1909, from which time the normal use of the Blackfriars terminus was discontinued and the shelter removed, although the third stub track remained until the closure of tramways in 1952.
Some 21 B class cars were converted into snowbrooms in 1926 and one such car, 022, was retained by London Transport and was subsequently restored by the London Council Tramways Trust to its original open top condition as car 106 and is now running in England at the National Tramway Museum at Crich, Derbyshire .

Go to Postcard Of The Month Index




Reload Home if you linked directly to this page



Postcard of the Month is created by John R. Prentice © Copyright 2003