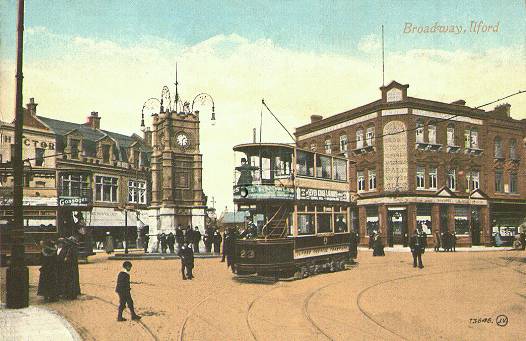 Ilford Council Tramways Car 23, Ilford Broadway
March 2003 was the centenary of the opening of the electric tramways of Ilford in the county of Essex. Our postcard is at Ilford Broadway and is number 73645 in the "Valentines" series. It was posted in Ilford on 26th February 1921 to an address in France, but the view dates from at least ten years before this. The main tram is Ilford car 23 which is turning right out of Ilford Lane on its way to Chadwell Heath. The car on the left belongs to East Ham Corporation and is waiting to depart towards Manor Park. The clock tower seen was transferred to South Park in 1923.
Ilford operated around six and a half miles of standard gauge electric tramway, the first routes opening on 14th March 1903. There were four section of track radiating from Ilford Broadway, being north along Ley Street and Horns Road to Barkingside (mainly single track with passing loops), south on Ilford Lane to the Barking boundary at Loxford Bridge, east along the Ilford High Road via Seven Kings to Chadwell Heath and west on Ilford Hill to the East Ham boundary at the River Roding. Initially the two routes operated were Ilford Hill to Barkingside and Broadway (Loxford Bridge after 27th May 1903) to Chadwell Heath. The depot and generating station were in Ley street. Overhead wire with side bracket current collection was used, except on the High Road from Broadway to Seven Kings Hotel where there were centre brackets, these being replaced by side poles and span wires in 1913 (Broadway - Seven Kings Station) and 1919 (remainder).
From 12th April 1905 Ilford cars were withdrawn from Ilford Hill and this section was leased to East Ham who then operated a service from the Broadway to Manor Park over a newly rebuilt bridge across the Roding, and after 11th May 1910 together with West Ham and the L.C.C. from the Broadway to Aldgate (service 63). In turn from 7th June 1905, Ilford operated over Barking Tramways' tracks from Loxford Bridge via Fanshawe Avenue to Longbridge Road near Barking railway station, although this ceased on 30th September 1907, but from 1st June 1914 Ilford leased these tracks again and then exclusively ran the service from Loxford Bridge through to Barking Broadway.
Ilford themselves took no part in any joint workings and other than on Ilford Hill other companies' cars did not run into Ilford. Ilford Council used an unusual wheel profile which was designed to cause the tracks to wear flat and so they were reluctant to allow other cars on their system. When Ilford cars ran over the other operators' track they were prone to derailment and later when an ex-West Ham bogie was tested in Ilford by London Transport there was serious wheel slip, although towards the end of tramway days some ex-West Ham 4-wheelers did supplement the Ilford fleet. Perhaps their wheels had been returned to the Ilford profile.
Car 23 in our view was one of a batch of four open balcony 4-wheel cars (23-26) built by Brush Electrical and Engineering Company in 1910. They had Brush 21E type trucks with two GE54 motors and B.T.H K10 controllers. Ilford had a wide variety of cars including five bogie cars, a water car and two 4-wheelers purchased from Barking, and were an early pioneer of top covers, the first in the London Metropolitan area. The livery was crimson lake and cream until 1916 from which time on overhaul the trams were repainted sage green and ivory (or pale cream), a colour scheme carried by the ex-Barking cars and which seemed more weather resistant. As late as 1932 Ilford bought eight new enclosed top 4-wheel cars from Brush, these being sold in 1938 to Sunderland. At the time of the formation of London Transport, Ilford handed over 40 4-wheel trams plus the water car. Car 23 which had been renumbered 40 in 1930 and 28 in 1932, became 32 in the LT fleet and was scrapped in February 1938 at Walthamstow.
On 1st July 1933 the Ilford system joined the other London tramways in becoming part of London Transport, despite bitter opposition from Ilford Council, who felt that as a self contained (and profitable) unit it should not have been included. On 6th February 1938 the Ilford local trams were replaced by trolleybuses of class E1, operated from the depot in Ley street. The last tramcar in service was LT 32, the former Ilford car 23 in our picture. Route 63 Ilford-Aldgate was operated from Bow depot and lasted until 5th November 1939. From 1940-42, 18 trolleybuses on hire from Bournemouth temporarily worked in Ilford. During 1941, 43 trolleybuses originally destined for systems in South Africa were diverted to London and took over the Ilford routes (see photo) and ran these services until being replaced by RT type diesel buses on 19th August 1959.

Go to Postcard Of The Month Index




Reload Home if you linked directly to this page



Postcard of the Month is created by John R. Prentice © Copyright 2003