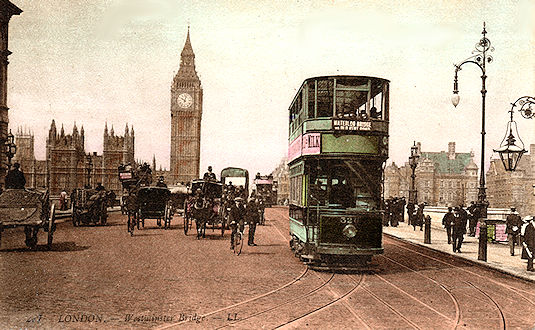 London County Council Car 320 on Westminster Bridge, London
This postcard is by that most famous of French card producers, Lévy Fils et Cie, of 44 Rue Letellier, Paris. The view was taken at 10.03 on a busy summer's morning in 1906. Although quite a common card that has been reproduced many times, this coloured version is somewhat rarer. Lévy cards can be identified by the letters LL at the end of the title and around 1000 different London views were published in this series.
The view is taken in London at the south end of Westminster Bridge, which crosses the Thames. In the background are the Houses of Parliament and also a number of open top L.C.C. trams. The destination of the tram is Waterloo Bridge via Old Kent Road, and was almost certainly posed for this photograph, as trams were in many Lévy postcards.
The tram is of the London County Council Tramways, being car 320 of their class D. The class was built in 1904 by the Brush Electrical Engineering Company at Loughborough, running on maximum traction bogie trucks made by the McGuire Company. These trams were originally open topped and the top covers, built by Milnes Voss, were added one or two years later.
Between the rails in the foreground of the view, the slot of the conduit system of current collection can clearly be seen. Instead of using overhead wires, which the L.C.C. thought were unsightly for the centre of London, the electricity was picked up from two conductor rails beneath the road surface by means of a device (known as a plough) attached to the tram and which ran in the slot.

Go to Postcard Of The Month Index




Reload Home if you linked directly to this page



Postcard of the Month is created by John R. Prentice © Copyright 1999