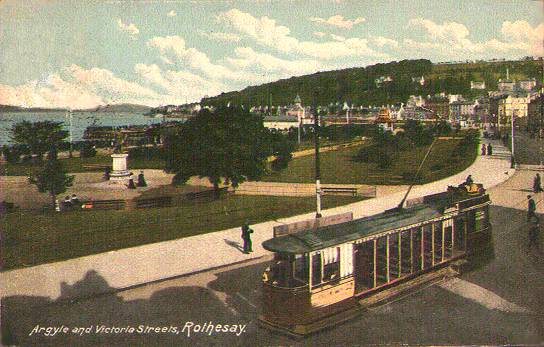 Rothesay, Argyle and Victoria Streets
The year 2002 was the centenary of the opening of the electric tramway at Rothesay on the Isle of Bute, the only tramway on a Scottish Island. The tramway began life in 1882 as a 4ft gauge horse tramway owned by Rothesay Tramways Ltd. In 1901 the company sold out to the British Electric Tramways group who on 2nd March 1902 closed the line and had Dick Kerr & Co. relay it to 3ft 6in gauge, prior to electrification. Re-gauged horse cars ran the service from 17th May until the electric service began on 19th August 1902, six days after the official inauguration.
The initial electric tramway ran from Guildford Square next to Rothesay Pier along the promenade and then turned inland along Ardbeg road, past Pointhouse Depot (still in use today as a bus garage), to terminate on the sea front at Port Bannatyne. On 13th July 1905 an extension was opened across the island on reserved right of way from Port Bannatyne to Ettrick Bay, bringing the total length of the tramway to 4.87 miles, all of which was double track.
Our postcard, published by Frederick Hartmann (series no. 2695.8) and printed in Germany, was probably issued in 1904 and was posted on 4th March 1905. It shows the location on the sea front at Rothesay where the promenade changes name from Argyle Street to Victoria Street.
The tram on our card was one of the first batch, numbered 1 to 10 which were built in 1902 by the Electric Railway & Tramway Carriage Works Ltd of Preston. They ran on Brill 22E reversed maximum traction bogies (not visible on the postcard due to "retouching" by the publisher), and had two motors and controllers by Dick Kerr. They had crossbench bodies with enclosed end saloons seating 18, and with 32 seated on the benches.
At the maximum the line operated 21 cars, all single deck, being a mixture of crossbench cars, closed saloons and toastracks. The livery was maroon and cream until 1932 when it became blue and white.
Winter service was withdrawn from January 1931 and control of the company passed to the Scottish Motor Traction Co. later the same year. The tramway continued to run until 30th September 1936, when it was replaced by buses which continued to carry the fleetname "Rothesay Tramways Company" until 1951. The official last tram was number 9, but the last car in service was number 14 which was illuminated and decorated for the occasion.

Go to Postcard Of The Month Index




Reload Home if you linked directly to this page



Postcard of the Month is created by John R. Prentice © Copyright 2002