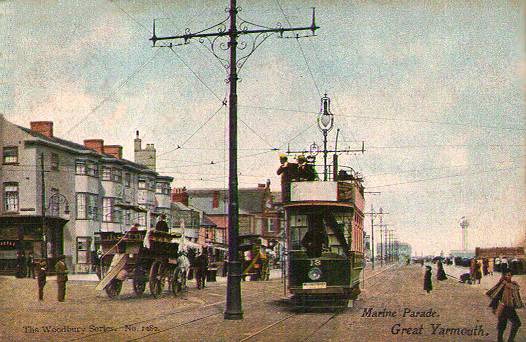 Great Yarmouth Car 13, Marine Parade
The year 2002 was the centenary of the opening of the Great Yarmouth Corporation Tramways. The system was unusual in that it consisted of two unconnected sections on either side of the River Yare. That on the west bank began life in 1875 as a standard gauge horse tramway serving Yarmouth and Gorleston, being re-gauged to 3 ft. 6 in. in 1882 and taken over and electrified by the Corporation in 1905. On the east bank the Corporation built a 3 ft 6 in gauge electric tramway which opened on 19th June 1902 ultimately serving Fish Wharf, Caister, Wellington Pier and Vauxhall Station. The total extent of the tramway system was just under 10 miles.
Our postcard is view number 1282 in the Woodbury Series. It was posted on 8th August 1904. The photograph was taken close to the date of the opening of the system in 1902. The tram in the view is car 13 which has come via Regent Road and is going to Wellington Pier. It is on Marine Parade, opposite St.Peter's Road, about 1/4 mile from the terminus. A junction here, just visible in the picture, provided separate route access to the town centre. Note the extremely ornate traction poles. On the right of the view in the distance, the 150 ft high revolving observation tower opened in 1897 can just be seen at the North Beach. This tower, with the cabin being hauled up corkscrew fashion, was finally demolished in 1941."
The Yarmouth fleet consisted of 35 four-wheel, double-deck, four side windowed open top cars built by Brush between 1902 and 1907. Car 13 in our view is one of the original batch of 14 which had reversed stairs, these being replaced by direct stairs in the 1920s to match the rest of the fleet. The livery was maroon and cream. After the system closed, 25 cars became chalets at the Caister Holiday Camp.
The two sections of the tramway went to opposite ends of Haven Bridge over the Yare, which was a narrow wooden structure with a lifting centre section. This was unsuitable for trams and by the time it was rebuilt in 1930 it was too late. From 1920 the Corporation had commenced bus operation and as the bus fleet built up so tram services were withdrawn, with the final route between Wellington Pier and Caister closing on 14th December 1933. The following day car 6 was used for a ceremonial "last run".

Go to Postcard Of The Month Index




Reload Home if you linked directly to this page



Postcard of the Month is created by John R. Prentice © Copyright 2002