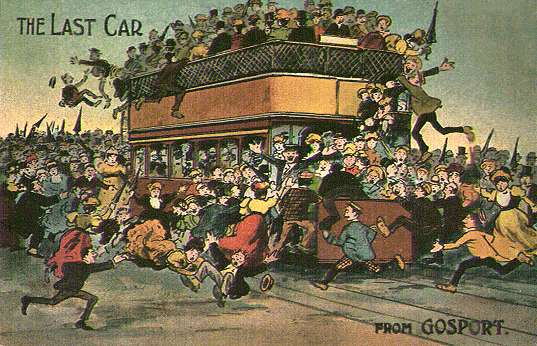 The Last Car From Gosport
The concept of a comic card with "Last Car From..." (or "To") was created in around 1907 when the artist Martin Anderson (1854-1932), who signed his work under the name of "Cynicus", set up the Cynicus Publishing Company at Tayport in Fife, Scotland. Cards were issued for many towns throughout Britain. Other publishers copied the joke and issued similar cards. Some versions had trams that were customised to match the town, others had the town name blank so that the sender could write in his own choice. Our example dates from 1908 and is number S.169 in the "National Series".
The real tram from Gosport would have been that of the Gosport & Fareham Tramways, which was owned by the Provincial Tramways Company who had tramways interests elsewhere in London, Grimsby, Portsmouth and Plymouth. The Gosport line began life in 1882 as a 3 ft. gauge horse tramway. In 1905 the system was re-gauged to 4 ft. 7 3/4 in. and electrified, the first electric car running on 20th December of that year. The line opened to the public on 24th January 1906. The total extent of the system was 7.75 miles.
The rolling stock consisted of 22 four-wheel, double-deck, three side windowed open top cars. The first 18 were built by Brush and the remaining 4 by Milnes-Voss. The livery was emerald green and cream. On 31st December 1929 these trams were withdrawn and replaced by buses, some of the cars being transferred to other Provincial Tramways systems.

Go to Postcard Of The Month Index




Reload Home if you linked directly to this page



Postcard of the Month is created by John R. Prentice © Copyright 2002