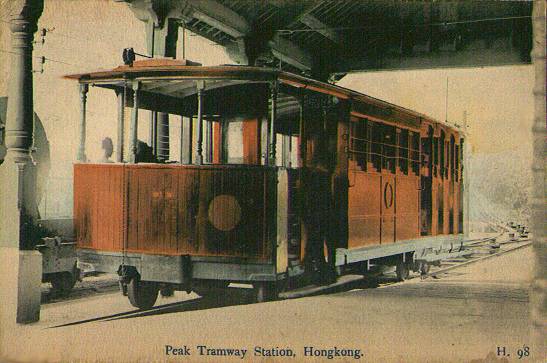 Hong Kong Peak Tramway, Cable Car
Our postcard shows one of the two original 30-seat cars of the line in about 1910 at the lower terminus in St John's Place, just off Garden Road. Only half of the car body was fully enclosed and it was only necessary to have entrances on one side. Unfortunately, it is not known who built these first cars. This postcard (number H 98) was published by "S.S. Pictures" and litho-printed in Japan. Wording printed on rear of the card is in English, German, French, Italian and Russian.
The idea of a tramway connecting Hong Kong's city levels (near the Central District) with the mid- and upper-levels of Victoria Peak and terminating at Victoria Gap was given official sanction in 1882. The Hong Kong High-Level Tramways Co. Ltd. was established in 1885 to construct, equip and operate such a line and, to this end, 1250 shares of HK$100 each were issued. Construction was completed in 1888 and the inaugural service was on Wednesday 30th May.
At that time, fares were 30c, 20c and 10c 'up' for 1st, 2nd and 3rd classes respectively – fares 'down' were half-price. The Peak, particularly the Upper Levels, was much favoured by European colonials because the climate was markedly better than that at sea level. The Hong Kong Guide for 1893 records that the journey took 9 minutes but that the first-class fare had risen to 50c. By comparison, a sedan chair with four bearers could be hired for the hilly districts of The Peak at 60c per hour or HK$1.50 for 6 hours! A one-man rickshaw (or jinricksha) could be hired for 15c per hour.
The Peak tramway covers a length of nearly 3/4 of a mile (1.4km) and rises through an elevation of some 1200ft (440m) to terminate at a height of 1300ft (397m) above sea level. There are currently four intermediate stations. The actual summit of Victoria Peak is 1800ft (550m) above sea level but from either point, the views can be spectacular. The tramway was laid to the unusual gauge of 5ft (1524mm) with a loop at the halfway point to allow the two counterbalanced cars to pass and the steepest gradient is 1 in 2. The original steam-powered winding house at the upper terminus gave way to electric cable drive in 1926 and at the same time, two larger 52-seat vehicles replaced the original cars. In 1948, 62-seat light-metal cars were introduced but in 1959 they in turn were replaced by still larger (72-seat) cars. The current (5th generation) cars were built by Carosserie Gangloff AG of Switzerland and introduced in 1989. Normal journey time is 7-8 minutes but in busy periods this can be reduced to 5 minutes.
The wooden station depicted was built in 1889 but replaced by a concrete structure in 1935. This was demolished in 1964 and the station formed the lower level of a 14-storey office block. In 1983, that was demolished and replaced by a 22-storey block that still stands.

Go to Postcard Of The Month Index




Reload Home if you linked directly to this page



Postcard of the Month is created by John R. Prentice © Copyright 2002