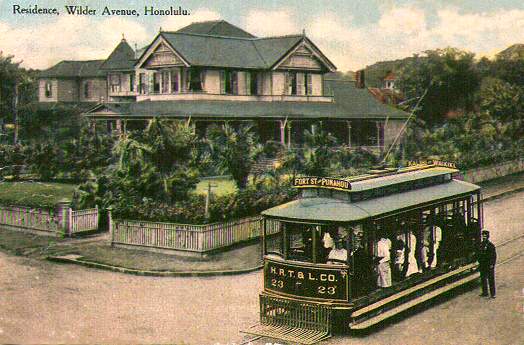 Honolulu Car 23, Wilder Avenue
Aloha! When English navigator Captain James Cook first set foot on the Hawaiian Islands (where he died) in 1778, he named them the Sandwich Islands after the then First Lord of the Admiralty, the Earl of Sandwich. Returning to their native name, they later came under American influence becoming a US territory in 1900 and subsequently the 50th State in 1959.
It was an English firm, Skinner & Company, that in 1889 first introduced trams (streetcars) to the Hawaiian capital Honolulu, on the island of Oahu, doing business as Hawaiian Tramways. These earliest examples were powered by mules and lasted quite profitably until the coming of the electric cars in 1901. In 1900 a small stand alone electric line was introduced by Charles S.Desky to serve his real estate development at Pacific Heights, indeed the main tramway system later encouraged developments such as that at Manoa. On 31st August 1901 Governor Dole switched on the power to the Honolulu Rapid Transit and Lighting Company's system and the first cars ran carrying some 500 invited guests. Public service began at once.
The size of the Honolulu system grew over the years with a maximum of 54 trams running on some 30 miles of track built to 4 foot gauge. The trams were all to typical American designs (note the lifeguards) and were in a livery of maroon and straw, changed in the 1930s to burnt orange. The last tram ran on 30th June 1941. Honolulu also ran 115 trolleybuses on three routes between 1st January 1938 and 22nd June 1957.
The postcard dates from around 1904 and shows H.R.T. & L. car 23 in Wilder Avenue, Honolulu. Destination displays on the tram are Fort Street and Pukahou on the front and Kalihi and Waikiki in the rear. The card was published by the quaintly named Hawaii & South Seas Curio Co., Honolulu and is "Made in USA". Our example was posted on 20th June 1910 from Waikiki to a less exotic address in Leytonstone, London, England.

Go to Postcard Of The Month Index




Reload Home if you linked directly to this page



Postcard of the Month is created by John R. Prentice © Copyright 2002