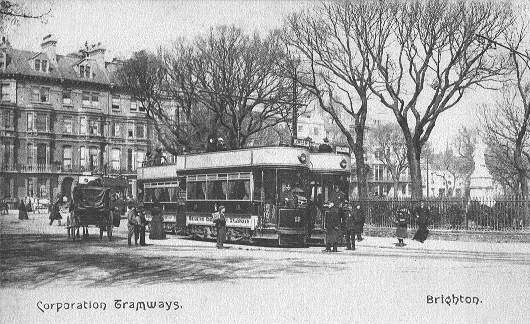 Brighton Corporation Tramways, Car 18
This postcard is of car 18 of the Brighton Corporation Tramways at its original Pavilion terminal loop around Victoria Gardens. The card was produced by the Mezzotint Company of York Hill, London Road, Brighton and was posted on 19th October 1904, although the view dates from the commencement of electric tram operation in 1901.
Hove, a district to the west of Brighton, had seen horse and steam trams since 1884, and from 1883 Brighton itself had (and still has) the Volks Electric Railway, but a hundred years ago on 25th November 1901 the Corporation began its own service of electric cars on 3ft 6in gauge track from Victoria Gardens, inland up the Lewes Road, past the depot at Bear Road and then to Preston Barracks, where the terminus was known as Lewes Road. Other routes were soon added bringing the system to nine and a half miles. At its maximum, the system owned 165 double-deck trams.
Car 18 and the other two trams in the picture were from the original batch of 25 double-deck open topped cars built for the Corporation by Milnes, on 4-wheel Peckham cantilever trucks with two 30 horse power motors (from 1908 replaced by Brill 21E trucks). They had reversed stairs and were known as class "A". The livery at the date of opening was maroon and cream, later plum and cream.
Like so many other British tramways, replacement was considered in the late '30s and from 26th April 1939 onwards trams were systematically superseded by buses and trolleybuses, with the last tram running on 31st August 1939. Brighton Corporation had a fleet of 52 trolleybuses, the last of which ran on 30th June 1961.

Go to Postcard Of The Month Index




Reload Home if you linked directly to this page



Postcard of the Month is created by John R. Prentice © Copyright 2001