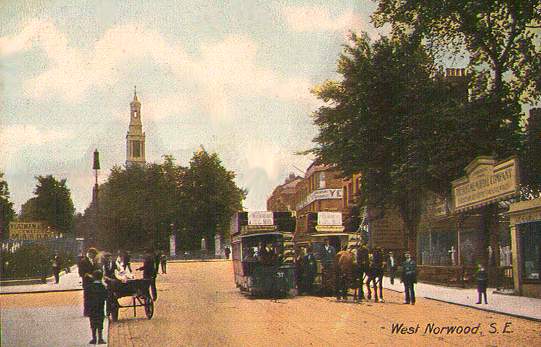 London Southern Horse Trams, West Norwood
Our postcard shows two horse trams of the London Southern Tramways Company, at the terminus at Thurlow Place (now named Norwood Road), West Norwood. The view is taken looking south with Knights Hill behind the trams and Norwood High Street just to the left of the church. West Norwood cemetery is on the immediate left. The tram on the left is car 37 and the car on the right is ready for the return journey to Vauxhall.
The card is in the 'AFC Series' and was issued by Albert Flint of Church Street, Camberwell, in south-east London. He was a photographer and publisher and many hundreds of view cards, mainly of south London, were produced by him early in the 20th century. This particular scene probably dates from 1903 or 1904.
The London Southern system covered a small series of just under six miles of standard gauge routes connecting Vauxhall, Stockwell, Brixton, Camberwell Green, Herne Hill, Tulse Hill, and West Norwood, via Loughborough Junction. Service began on 7th December 1883, but the line to West Norwood was not opened until 4th June 1885, with the system being completed by the "Swan" Stockwell branch on 21st August 1887. Operation of the tramways was taken over on 7th October 1906 by the London County Council tramways, who gained full ownership of the company on 20th December 1906. L.C.C. later electrified the routes as part of the council's network. The section to West Norwood opened on 30th May 1909 using overhead current collection instead of the usual L.C.C. conduit method.
In 1902 the London Southern owned some 33 trams mostly of the type shown in the postcard view. These were housed at two depots, one of which was at Lansdowne Hill, West Norwood, just behind the photographer of our card (the other was at Stockwell Road). The tramcars, which had six side windows, seated 20 inside and 24 on "garden seats" on the top deck. To clear a low railway bridge in Hinton Road at Loughborough Junction, the cars were of a low height design achieved by fitting 27 inch diameter wheels instead of the usual 30 inch type, and by recessing the axleboxes and springs into the side sills and rocker panels. Most of the trams were built by the Falcon Engine and Car Works Ltd of Loughborough, the remainder being built by London Southern itself. The livery depended on the route and is somewhat in doubt. The rocker panel was cream while the rest of the body was red for Norwood to Vauxhall, blue (or green) for Vauxhall and Stockwell to Camberwell, brown (or blue) for Norwood to Camberwell, and brown for Brixton to Camberwell.

Go to Postcard Of The Month Index




Reload Home if you linked directly to this page



Postcard of the Month is created by John R. Prentice © Copyright 2001