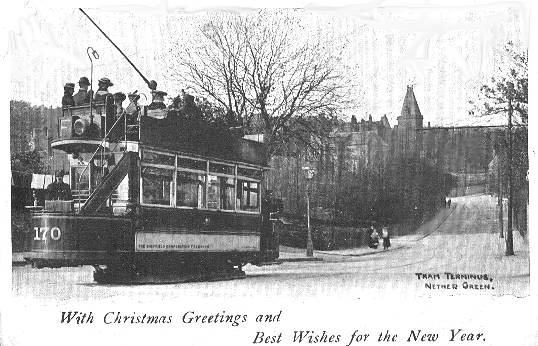 Sheffield Corporation Car 170, Nether Green
The seasonal caption on this card is "With Christmas Greetings and Best Wishes for the New Year". The card was screen printed by an unknown manufacturer, probably in the Sheffield area. Our card has written on the back "To Beatrice Mary from Aunty Bee, Christmas 1903".
The tramcar in the view is one of a batch of twenty (167-186) built in 1902 by local firm Cravens Railway Carriage and Wagon Co. Ltd. of Darnall, Sheffield. It was mounted on a Brill 21E four wheel truck which was fitted with two GE58 35 horse power motors supplied by British Thomson-Houston Co. Ltd. of Rugby, who also supplied the car's B13 controllers. The livery was royal blue and cream.
Sheffield Tramways Company began operating horse trams on 7th October 1873, creating some nine and a half miles of standard gauge route. In 1896 the Corporation took over tramway operation and from 6th September 1899 began operation of its first electric routes, which included the one in our postcard (which was route 'F' as can just be seen on the upper deck left of the headlamp). The system continued to expand in the 1920s and 30s and at its peak had over 500 trams on 52 miles of route. Although new trams were built as late as 1952, the system closed for service on 8th October 1960.
However, the story for trams does not end here, as the second generation Sheffield Supertam service began on 21st March 1994 and operates some 25 trams on 17 miles of route. In addition at least ten first generation Sheffield trams have been preserved, mostly at the National Tramway Museum at Crich in Derbyshire.

Go to Postcard Of The Month Index




Reload Home if you linked directly to this page



Postcard of the Month is created by John R. Prentice © Copyright 2000