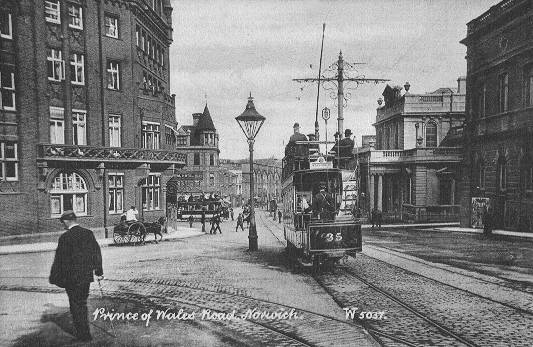 Norwich Car 35, Prince of Wales Road
Time marches on and it was over 100 years ago, on July 30th 1900, that the Norwich Electric Tramways Company started operation with forty Brush-built open-top trams like No.35 shown here. These cars were mounted on Peckham cantilever 4-wheel trucks fitted with two 25hp Westinghouse '46' motors and Westinghouse '28A' controllers. Seating capacity was 26 on each deck and livery was maroon and ivory. In addition, there were 10 similar trailers some of which were later motorised.
The system was built to 3ft 6in gauge and peaked at just over 15 miles of track. Only nine of the original forty cars survived to the closing date on December 10th 1935 and No.35 was one of them. English Electric had rebodied most of the remainder during the 1920s.
This view looks east along Prince of Wales Road and car 35 is bound for Mousehold Heath in the northeast of the city. Prince of Wales Road was the only section with the elegant centre poles to support the overhead wires. The Royal Hotel is on the left and just beyond is another car about to turn out of Upper King Street having come from Magdalen Road.
The card is No.5037 in a classic postcard series by Wyndhams, a national publisher well known for high quality litho printing. Although the view was taken late in 1902 or early in 1903, this particular card was posted on September 27th 1906.

Go to Postcard Of The Month Index




Reload Home if you linked directly to this page



Postcard of the Month is created by John R. Prentice © Copyright 2000