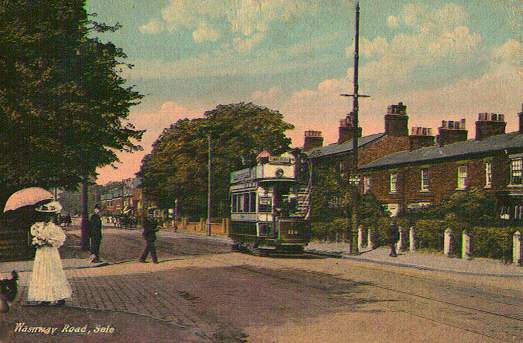 Manchester Car 114 in Washway Road, Sale
This card is in the "Birkenhead Series" and shows car 114 in Washway Road, Sale. It was posted on 23rd December 1910, but the view probably dates from a little earlier.
The tram in the picture would have been on route 47/48 which ran between Manchester and the Timperley terminus in Altrincham and which opened on 1st December 1902. There was also a short line (route 49) to Sale railway station, opened 13th April 1903, and which branched off close to this location. This tram was one of a series of over 100 cars built for Manchester between 1901 and 1903 by the Brush Electrical Engineering Co. Ltd. of Loughborough. They had either Brill 21E or Peckham cantilever trucks and electrical equipment by Dick Kerr or BTH. A similar car in the series, number 173, has been preserved and is currently in the Manchester Museum of Transport.
The last tram ran on the Altrincham route on 18th January 1931 and the last Manchester Corporation tram (number 1007) closed the system on 10th January 1949. However, the story does not end there as the new Metrolink tramway, which opened in 1992, once again serves Sale and Altrincham, albeit running on the alignment of the former Manchester, South Junction & Altrincham Railway.

Go to Postcard Of The Month Index




Reload Home if you linked directly to this page



Postcard of the Month is created by John R. Prentice © Copyright 2000