Lytham St. Anne's Gas Tram, Car 12
This postcard, captioned The Drive, St Annes on the Sea, includes that most unusual transport oddity, the gas powered tram. This finely detailed lithographic postcard dates from about 1901 and was published by William Ritchie and Sons of Edinburgh in their well-known 'Reliable Series'. Being an undivided-back postcard and therefore a pre-1902 printing, the short message was written on the front with only the address on the back, as was required by British Post Office regulations at that time. It was posted in 1901 or early 1902 (postmark illegible) from Blackpool to Stoke-on-Trent.
The principle of the gas tram system was developed by the German company Lührig of Dresden and was worked by compressed town gas (coal gas). A small gas engine operated a compressor and filled a large storage reservoir at the depot to about ten atmospheres. On each charge, gas was transferred to the tram where it was held in a number of smaller reservoirs at about 8 atmospheres. The gas fuelled an internal combustion engine with a large flywheel on the tram (originally a horizontally-opposed twin cylinder Otto engine), where it was fired by a magneto ignition. Gears and a clutch were used to disengage the engine at stops, when it continued to tick over. Often, a condenser was fitted to the exhaust to cut down emissions. Speed could be regulated by cutting the gas supply to one cylinder and by retarding the gas entry to half stroke.
The Lytham line, which was standard gauge, was opened on 11 July 1896 from St. Anne's to Station Road, Blackpool and then on Blackpool owned tracks to Squires Gate (not connected to Blackpool's system until electric days - 1905). It was extended to Lytham in February 1897, a grand total of over 6 miles. There was a gas tram depot in Market Square, Lytham, and later another depot at Squires Gate.
From opening until the end of 1898 the line was leased to the British Gas Traction Co. (a subsidiary of Lührig, who also demonstrated cars in Croydon under the name of the Traction Syndicate Ltd.), but BGT was by then in financial trouble and the line was bought by the Blackpool, St Anne's and Lytham Tramways Co. Ltd. for £115,000 including the cars. Due to Blackpool's objections, the new company partly operated the line (the Blackpool section) by horse cars until 1901, and withdrew the gas cars late in 1902, the line being reconstructed as an electric tramway from December of that year reopening on 28th May 1903. The gas trams were then sold on to Neath (Wales) and Trafford Park (Manchester), both formerly operated by the British Gas Traction Co.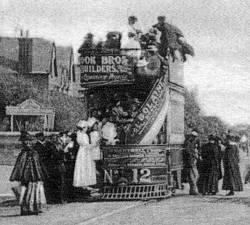 The original four cars were of a small open top double-deck four-wheel 40 seat type, built by the Woodbury Carriage Co. and fitted with German gas engines. Two gas reservoirs were in front of the wheels at each end and a third was under the floor. This was followed in 1897 by an additional 12 larger improved 52 seat cars, probably by the Lancaster Railway Carriage and Wagon Company, fitted with Crossley 15 hp engines. They ran for about 16 miles per charge of gas. Car 12 in our postcard and shown enlarged here, is of the larger type.

Trafford Park had opened on 23rd July 1897 and was run by four open top double-deck cars built by Gas Motorenfabrik Deutz of Cologne. They had opposed twin cylinder gas engines with a large flywheel in the lower saloon with three cylindrical gas storage tanks. When BGT went into liquidation at the end of 1899 the line was taken over by the Trafford Park Estates who in 1902 electrified the line, although the gas trams continued to run until 1st May 1908.
In Neath, the council-owned 4 mile horse tramway was modernised by gas trams by leasing the line to the British Gas Traction Co. from 1st April 1898. Service did not commence with gas trams until 31st August 1899 at which time the BGT were about to go broke. The line was therefore taken over by a management buy-out and became the Provincial Gas Traction Co. Ltd. who ordered larger cars, but they in turn went broke in 1916. Provincial acquired the second hand cars from Lytham in 1903. The line was run by the council from 1916 until 8th August 1920 when it closed. Neath with its gas trams was thus one of the few British Tramways not to be electrified.
One small 40 seat Neath gas tram (minus engine) survived in a garden and was recovered in 1984 for preservation and is now at the Mining Museum at Crynant, South Wales. This body was built by the Ashbury Railway Carriage and Iron Company in Manchester and appears to be one of the three original 40 seat open top double-deck ones built for BGT for use at Neath, but is thought by some to be an ex-Lytham car. As it is of the smaller original type, it would be typical of those used at all three systems.
Gas trams were also tried on the Neuchâtel to Saint-Blaise line in Switzerland from October 1893. They were two small single-deckers, seating 12 inside with 8 standing on the rear platform, and built by Gilliéron & Amrein of Vevey. There were two matching trailers. The trams carried gas at 10 atmospheres pressure and had 8 horsepower "Gnôme" motors, soon replaced by ones of 15 hp by Benz. The gas trams were found to be unsatisfactory, mainly due to lack of power and using too much gas, and were withdrawn on 12th May 1894, being replaced by horse trams.

Go to Postcard Of The Month Index




Reload Home if you linked directly to this page



Postcard of the Month is created by John R. Prentice © Copyright 2000