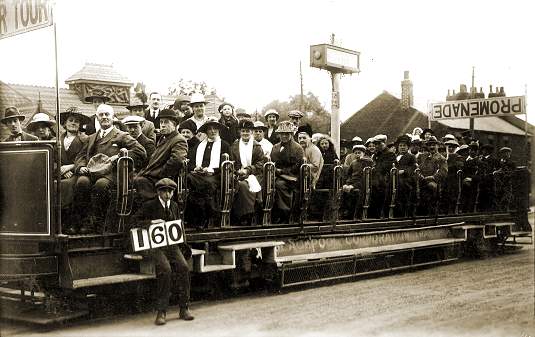 Blackpool Toastrack Tram at the Oxford Hotel, Marton
A good example of a custom made postcard, but one of the few that also includes a tramcar.
From 1919 to 1927 each day at busy times, the enterprising photographer set up his camera outside the Oxford Hotel in Marton, where he also covered charabanc tours. Although frowned upon by the transport company, with an annual "Christmas Box" he encouraged the drivers to stop for a few moments. A boy (paid one penny), often Bill Latham who was the son of the Landlord of the Oxford Hotel, usually held up the board with the number on. Numbered tickets were then given out, and the following day visitors could collect a postcard of Blackpool with themselves on it from the Winter Gardens.
From the condition of the tram, i.e. with lamps fitted to the destination box, we can tell that this example dates from the first three seasons of the photographer, 1919-1921.
The postcard shows one of the twenty-four toastrack trams numbered 69-92 built for Blackpool by United Electric Car Co. of Preston (Dick Kerr) between 1911 and 1914. They were fitted with two 27 horse power GE52 motors and had BTH B18 controllers. Much of this electrical equipment was recovered from earlier conduit trams or purchased second hand from Sheffield.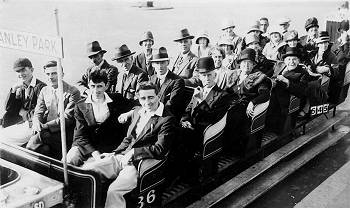 In July 1927 the transport company strictly forbade the drivers from stopping, and the photographer then switched to snapping the open buses (left) at Stanley Park, Blackpool.
Although the circular tour originated in 1905, the route followed by the toastracks began in 1911. Starting at Talbot Square, cars followed the South Promenade to South Pier, then turned inland finally returning to the start via Whitegate Drive, Marton, all for a charge of four pennies (4d.). The toastracks were an instant success. In 1913, their best year, 700,000 passengers were carried with revenues of over ten thousand pounds, making this one of the most profitable tram routes in Britain ever. From the mid 1920's the traffic declined and the service ceased in 1932.


Go to Postcard Of The Month Index




Reload Home if you linked directly to this page



Postcard of the Month is created by John R. Prentice © Copyright 2000