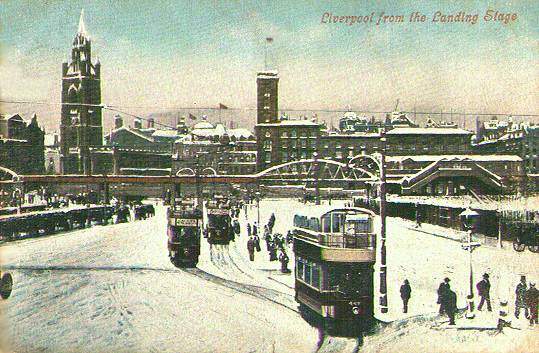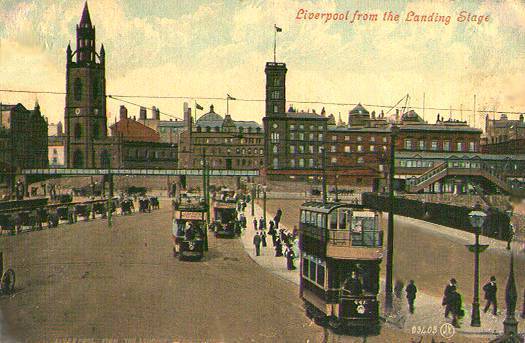 Liverpool Car 447, Pier Head
Our winter view of Liverpool from the Pier Head landing stage is a good example of the card maker, in this case J.Valentine of Dundee, modifying an existing view to form a seasonal card, by the addition of 'snow'. The summer version is based on the original photograph, number 03403, but even this has been retouched, the girder bridge in the background being removed for some reason. There were various versions of this card, more or less retouched, and it was available for many years. Until very recent times, the old established firm of J.Valentine produced thousands of different postcard views from the UK, some parts of Europe, and numerous parts of the British Empire or Commonwealth.
The original photograph was taken in the summer of 1903, before the Royal Liver Building was constructed, and shows trams in St. Nicholas Place. Across the back of the scene runs the Liverpool Overhead Railway, the station to the right being Pier Head.
The open top trams in the rear (170 and 328) were the standard type at the time, but the car in the foreground, 447, was brand new. It was built in March 1903, being one of a batch of twelve constructed by the Corporation themselves at their Lambeth Road works and numbered 442-447 and 478-483. The electrical equipment and 6 foot wheelbase Brill 21E trucks were supplied by Dick Kerr of Preston. The livery was crimson lake and cream.
Unlike the rest of the fleet at that time, numbers 442 to 447 were actually built complete with enclosed upper decks, using top covers which were designed by C.R.Bellamy. When first built the roofs had canvas sides, but by the end of 1903 they had been upgraded by Dick Kerr to have glass windows.
The Liverpool trams of this era also carried a 'plough' type lifeguard designed by Bellamy, of which the Board of Trade disapproved but allowed at the Corporation's own risk. They remained in use in the city for over twenty years.
Charles Revill Bellamy was the manager of Liverpool Corporation Tramways from 5th. January 1899 until his death on 23rd. December 1905. 'Bellamy' roofs were fitted to the rest of the Liverpool fleet, 76 percent being completed by 1906. Similar roofs, constructed by Dick Kerr and others, were supplied to many other tramways throughout Britain.

Go to Postcard Of The Month Index




Reload Home if you linked directly to this page



Postcard of the Month is created by John R. Prentice © Copyright 1999