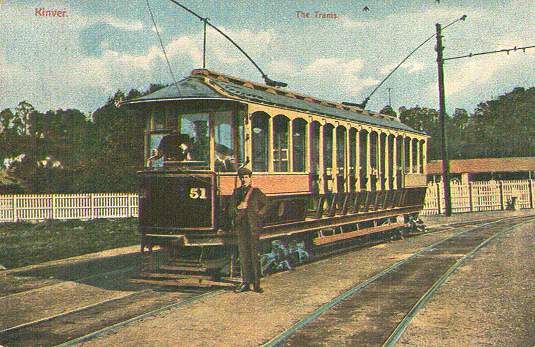 Kinver Light Railway, Car 51
Kinver lies about 15 miles west of Birmingham, 10 miles south of Wolverhampton and 5 miles north of Kidderminster and remains a popular destination for day-trippers today, alas without these trams of yesteryear. The sandstone ridge of Kinver Edge has attracted visitors for over a century for its woodlands, heath land and dramatic views, and is now administered by the National Trust.
The 3ft.6in. gauge Kinver Light Railway (KLR) was built by the British Electric Traction Co. (BET) and opened in 1901. It ran south-west from Amblecote to Kinver, a distance of approximately 4 miles, mainly via open countryside or at the side of the road over single track with passing loops. During 1902, the line was taken over by the Dudley, Stourbridge & District Electric Traction Company (DS&DET) who operated it on behalf of the BET and the KLR rolling-stock of six trams was absorbed into the DS&DET fleet.
The car shown here was one of three 'toast-rack' or 'open combination' cars built by Brush, delivered early in 1902 and numbered 1-3. No.51 of the DS&DET was formerly no.3 in the KLR fleet. Originally, these were fitted with a single trolley-pole and Brush B 'reversed' maximum traction bogies, i.e. pony-wheels leading, but within a short time, two trolley-poles were fitted and the bogies reverted to a more conventional arrangement with drive-wheels leading to overcome derailment problems on the railway style bull-head rails of the line. The wheels themselves had a railway profile with deeper flanges. By 1903, the track had been re-laid with grooved tram rail allowing through workings from many of the interconnected 'Black Country' tramway systems using single-deck cars with standard tramway flanged wheels. Throughout the life of the line, double-deck trams were never allowed to operate to the Kinver terminus.
The track and rolling stock deteriorated badly during the Great War, and afterwards traffic was hit by bus and motor car competition. As a result, the DS&DET main line closed for service on 1st March 1930, with the KLR probably having closed one month earlier.
The maroon and cream livery of the tram in this view may be a fair approximation although other sources suggest a slightly lighter red. This postcard was published about 1906 as no.847 in a series by "E.S." of London and was printed in Hamburg. It is not postally used.

Go to Postcard Of The Month Index




Reload Home if you linked directly to this page



Postcard of the Month is created by John R. Prentice © Copyright 1999