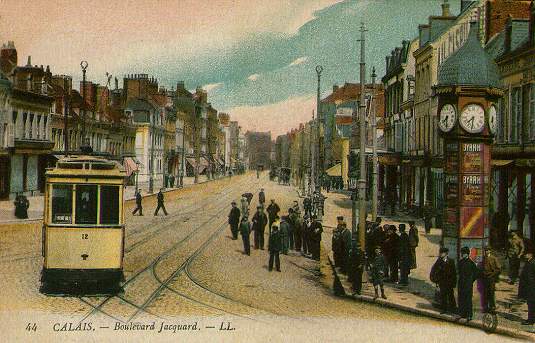 Calais Car 12, Boulevard Jacquard
Again a postcard by that most famous of French card producers, Lévy Fils et Cie, of 44 Rue Letellier, Paris. The view was taken at 7.30 a.m. at about the date of the opening of the Calais electric tramways in 1906, although this card and a more common black and white version were sold until the 1920s. The early morning set up once more clearly illustrates the "posed" style of Lévy cards.
The first Calais tramway, on a concession to a Mr Cecil Johnson, was built in 1879 by the London based "Tramways and General Works Co. Ltd." which became the "Calais Tramways Company" in 1882. It consisted of three standard gauge routes operated by 17 horse trams, mostly one horse single-deckers but some two horse double-deckers to an English design with entrances on the left, so passengers would have had to board at the front of these trams.
In 1906 a new company, the Société Anonyme des Tramway de Calais et Extensions, took over from the English company, re-laid the track to metre gauge, electrified the system and extended it to form six routes totalling 20 kilometres . By 1927 they had expanded to operate 34 motor cars and 30 trailers, the motor cars being to the design of the one shown in the postcard. Routes operated were Place d'Armes to Saint-Pierre Halte, Place d'Armes to Gare des Fontinettes, Place d'Armes to Porte de Lille, Fort-Nieulay to Porte des Gravelines, Place d'Armes to Cimetière-Sud and a suburban line from Calais to Guînes. In summer time trams operated an extension from Place d'Armes to the Casino. The depot was in the centre of the town near the "Théâtre".
The line to Porte de Lille did not last very long, but the remainder continued for many years largely unchanged until early in 1940 buses took over the Guînes route. As a result very heavy damage and destruction during the Battle of Calais, the tramway closed in June 1940.

Go to Postcard Of The Month Index




Reload Home if you linked directly to this page



Postcard of the Month is created by John R. Prentice © Copyright 1999