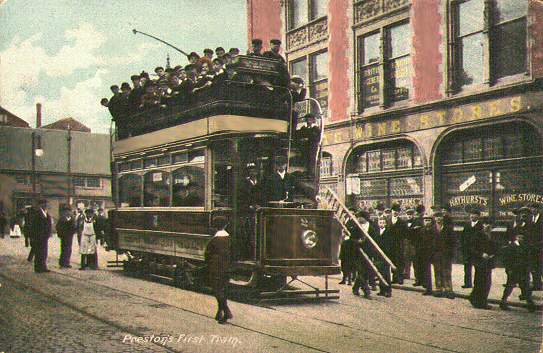 Preston's First Tram, Car 24
The title of this card reads, "Preston's First Tram". Even if not the first car to actually run, tram no.24 was certainly one of the first batch delivered for the opening of the new electric tram service on 7th June 1904.
The car was a local product, the electrical equipment having been supplied by Dick, Kerr & Co.Ltd. of Preston and the bodywork having been built at the "East Works" in Strand Road, Preston, by the then Electric Railway & Tramway Carriage Works Ltd., a Dick Kerr subsidiary. Well over 8000 tramcars were built in the town for service not only in the UK but for many towns and cities overseas, principally those of the British Empire.
The view shows the well-laden, even over-loaded, car ready to leave the town centre for Fulwood via North Road on what may have been the first day of service. The Fulwood district and tram terminus were outside of the Preston borough boundary but had also been served by the earlier horse-drawn tramway which operated from 1879 until December 1903 on narrow (3ft.6in.) gauge. The replacement electric tramway was built to standard (4ft.8 1/2in.) gauge.
The modest Preston Corporation Tramways had a maximum extent of 10.5 miles with a mixture of double- and single-deck cars. Tram 24 depicted here was rebuilt as a totally enclosed car, with vestibules, windscreens and full roof cover, in the 1920s. Because of the additional weight, these structural changes necessitated more powerful motors in the four-wheel Brill 21E truck and the original two 25hp units were replaced by 32hp units.
The card shows the tram livery as brown and cream although official records state it to be dark red and cream (or maroon and yellow). Other contemporary postcards show Preston trams in dark green - a case of artistic or printer's licence? This card was published by "Worthington Printer" of Preston but, like very many cards of the period, was actually printed in Saxony, Germany. It has not been postally used.
With little further modernisation, the tramway closed in December 1935.

Go to Postcard Of The Month Index




Reload Home if you linked directly to this page



Postcard of the Month is created by John R. Prentice © Copyright 1999